Visitors to Washington now have a chance to experience the living traditions of China as the 48th annual Smithsonian Folklife Festival opened there on Wednesday with a major theme: "China: Tradition and the Art of Living."
The two-week festival features 120 Chinese folk artists highlighting the diversity among distinct communities of the world 's most populous country. Musicians, dancers, craftspeople and cooks will show how the Chinese, despite current change and pressures, are working to preserve and adapt their traditional culture in meaningful ways.
"I hope our visitors this year will leave with a better understanding of the diversity of China by meeting and learning from our participants who come from 15 regions and represent some of China's 56 ethnic groups," said program co-curator Jim Deutsch.
Festival visitors can watch craftspeople make paper cuts, New Year prints, clay figurines, kites and sachets that are used during annual celebrations and see artists who specialize in embroidery, patchwork, batiks and porcelain. Many of those items will be for sale in the festival's Marketplace.
Visitors will also experience the exuberance of public life in China when they visit the "People's Park" area of the program. Participants will demonstrate and teach the flower drum lantern dance, tai chi and water calligraphy.
The festival, held outdoors on the National Mall in the U.S. capital, is jointly sponsored by the U.S. Smithsonian's Center for Folklife and Cultural Heritage and the China International Culture Association.
In addition to "China: Tradition and the Art of Living," the 2014 Smithsonian Folklife Festival will also feature African cultural tradition with the name of "Kenya: Mambo Poa."
The Smithsonian Folklife Festival, inaugurated in 1967, honors people from across the United States and around the world. With approximately 1 million visitors each year, the festival unites presenters and performers in the nation's capital every summer to celebrate the diversity of cultural traditions.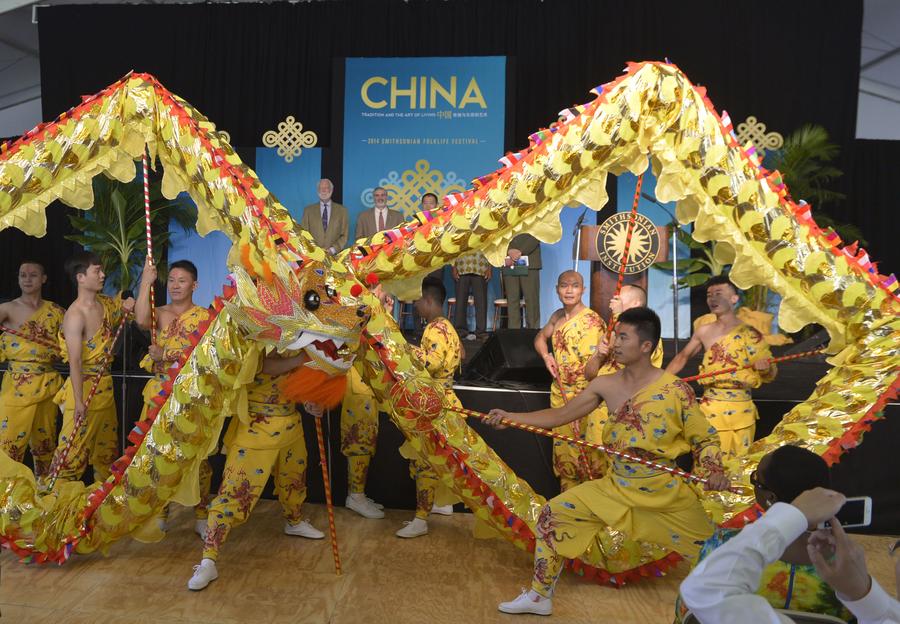 Chinese drangon dance is seen at the opening ceremony of 48th Smithsonian Folklife Festival in Washington D.C., the United States, on June 25, 2014. The 48th annual Smithsonian Folklife Festival opened in Washington on Wednesday with a major theme: "China: Tradition and the Art of Living". [Photo/Xinhua]