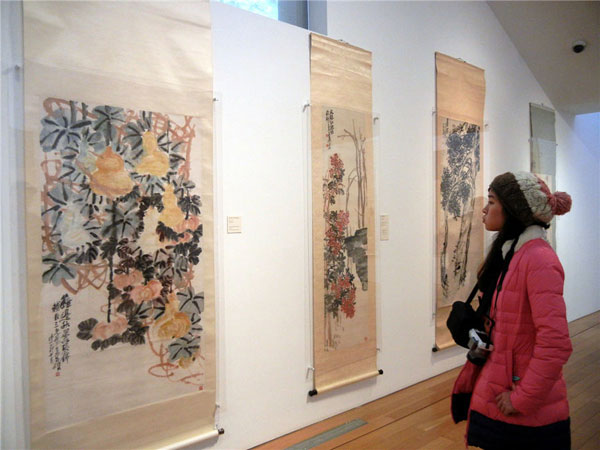 A visitor enjoys art master Wu Changshuo's paintings at the Suzhou Museum in Suzhou, Jiangsu province, January 1, 2014. [Photo by Wang Jiankang/Asianewsphoto]
The exhibition is the largest and most significant of Wu Changshuo's work in the last 10 years. The exhibition, which will run through February 18, features more than 50 pieces, including nine first-grade national cultural relics and eight second-grade national cultural relics.
Wu Changshuo (1844-1927) was born in Anji, Zhejiang province. He was the leader of the Shanghai Painting School and the first president of the Xiling Seal Club. Wu was regarded as the most influential and representative artist during the late Qing Dynasty (1644-1911) and early Republic of China (1912-1949).
Wu excelled at painting flowers, vegetables, fruit, mountains and rivers. His paintings feature special compositions and strong colors, and his calligraphy was refined and powerful.
Wu Changshuo and his art have greatly influenced modern Chinese artists, such as Cheng Shizeng, Qi Baishi, Fu Baoshi and Li Keran.