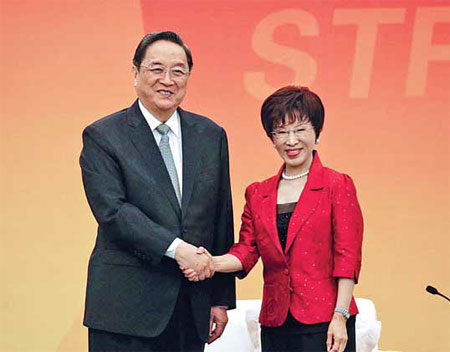 Chairman of the Chinese People's Political Consultative Conference Yu Zhengsheng met with vice-chairwoman of Kuomintang Hung Hsiu-chu at the Straits Forum. [Hu Meidong / China Daily]
Different cultures, yet the young people have an abiding 'China Dream'
Communication between youths across the Taiwan Straits has been put in the spotlight at a forum in Xiamen, Fujian province.
There are cultural differences between the young people from the Chinese mainland and Taiwan due to different environments as they grow up, yet they still need to respect each other, He Junke, president of All-China Youth Federation, said at the Cross-Straits Youth Forum in Xiamen on June 14.
The session is part of the ongoing sixth Straits Forum that runs from June 14 to June 20.
According to Chen Hua, standing committee member of the Fujian provincial committee of the Communist Party of China, since it was first held in 2003 the forum has attracted the participation of 61 youth societies and more than 5,000 young people.
In the past 11 years, the forum focused on subjects ranging from the economy to social development related to the youth, and gathered together not only the elite but also ordinary young people.
With the expansion of forum's scale, its influence has grown over the years, Chen said.
This year's forum with the theme of "China Dream and Chinese Affection" focused on topics that interest young people such as culture, innovation and creativity, Chen added.
Li Chung-guei, founder of the China Youth Communication Association, said that the information era brings people convenience, and saves time and money, but it also poses a challenge to traditional Chinese culture.
"Love is the essence of Chinese culture. If we can love each other, we can tackle all the problems," Li said.
Hsu Hsu-hui, president of Taiwan's Youth Career Development Association, pointed out that dialog between non-governmental organizations plays an important role in cross-Straits exchanges and may push forward the progress of political negotiations between the Chinese mainland and Taiwan.
"The Cross-Straits Youth Forum provides an important platform for NGOs from both sides to boost the development of cultural exchanges, allowing more people, especially the youth, to understand the development of cross-Straits relations," Hsu said.
Other participants in this year forum included Kenneth Fok, president of the Hong Kong United Youth Association, Lu Chuan, a noted movie director on the Chinese mainland, and Chi Po-lin, winner of the best documentary at the 50th Golden Horse Film Awards, who discussed how to "chase dreams", raising a heated discussion among the audience.
We Recommend: