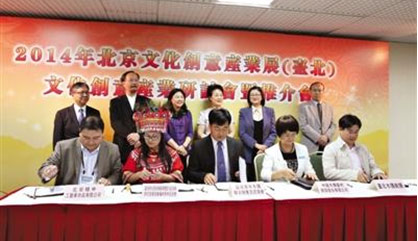 An agreement was signed with over 20 Taiwan cultural and creative businesses and 10 businesses from the Chinese mainland during the 2014 Beijing-Taiwan cultural and creative exhibition, which ended arecently. The gross sales through the exhibition contract and spot sales between the two sides amounted to 760 million yuan (US$122 million).
This is the 5thBeijing- Taiwan Cultural Creative Industry Exhibition held inTaipei, which began in 2009.
According to Zhao Yongzhuang, general manager of the China Puppet Theater, the exhibition deepened the exchange across the straits. The traditional Chinese puppet is also popular among Taiwan compatriots. During the exhibition, he found that that there are many things shared between the Cross-Strait compatriots in cultural inheritance. Currently, a strategic cooperation agreement has been reached between the China Puppet Theater and the United Development and Exchange Association of Taiwan puppets, the Taipei Puppet Troupe.Youth Confucius,played by the China Puppet Theater, is expected to run inTaiwan.
According to a staff from the Cultural Assets Supervision and Management Office (CASMO), apart from the China Puppet Theater, nine Beijing cultural and creative businesses signed a project cooperation agreement or complete the spot sales with the Taiwan businesses, with gross sales of about 760 million RMB.
The Party Secretary of CASMO Zhang Huiguang said revenue from cultural and creative industries have risen from 67.41 billion in 2005 to 240.67 billion in 2013, with a growth rate of 9.1% in 2013, accounting to 12.3% of its GDP.
Since Beijing began to develop its cultural and creative industries in 2005, the city's scale-above cultural and creative industry has achieved a revenue of 1,002.2 billion yuan.
Zhang Huiguang said that CASMO is also trying to push forward the integrated development of related industries and projects, including culture and tourism, finance and other businesses. This year, 32 billion yuan (US$51 million) is projected to be invested for cultural development in Beijing.
Beijing : a future National Center for the performing arts
According to one person in charge ofCASMO,the cultural and creative industry has achieved great progress in scale integration and profession. At preset, nine auxiliary categories of thecultural and creative industriesinBeijinghave been leading the world, including culture and art, press and publishing, radio, film and television, software networks and computer services, advertising exhibition, arts exchange, design services, tourism and entertainment.
According to statistics from the Beijing Performances Industry Association, the number of various business performances in Beijing rose to23,155 in2013, with a total audience attendance of 10.14 million and 1.442 billion yuan (US$225 million). Beijing has become a leading flourishing performance market recognized throughout the country, laying a solid foundation to become the future national performance center of the country.