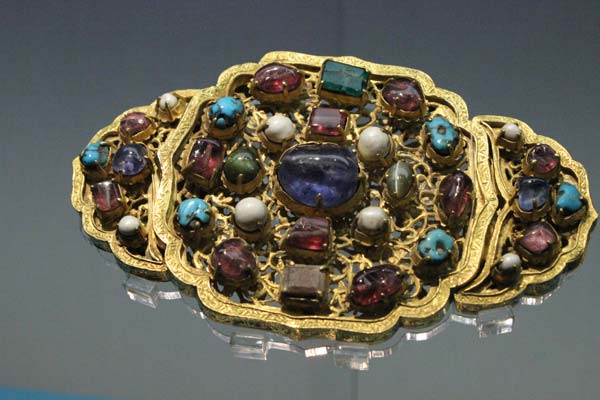 A golden belt with gem ornaments of Ming Dynasty (1368-1644) from Shandong Museum. [Wang Kaihao/China Daily]
"For example, it has to face many uncertainties and dangers sailing through some areas in South China Sea, which has become a graveyard of ancient ships. This display connects our findings in those areas like making a string of pearls.
"It is also a good time to inform the public this history as our country endeavors to safeguard maritime interests in recent years."
The exhibition will tour cities of Southeast Asia.
"The Maritime Silk Road was co-built by government and civilians through Chinese history and created a platform for China and foreign countries to establish a mutually beneficial relationship," says Liu Yingsheng, a history professor from Nanjing University.
"Ancient China's discipline in maritime communication has told the world that expeditionary voyages don't necessarily mean colonization and conflicts between civilizations," says Liu.
We Recommend: