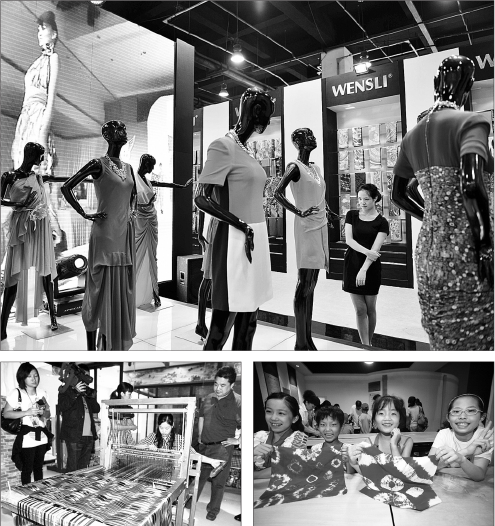 CHINA DAILY
Silk has been a pillar industry of Hangzhou for more than 1,300 years. The city is said to contribute a quarter of the world's silk supply.
Can Hangzhou's fashion products capture the allure of Hermes?
For a product that has been a staple of East-West trade for more than 2,000 years, it has an elegant allure that never seems to show any signs of age.
Gracing catwalk clothing in the world's fashion capitals and adding a dash of class to attire everywhere else, silk takes some beating.
Originating in China, it was transported to the rest of the world in large quantities as early as the Western Han Dynasty (206BC-AD24). Even today, it is likely that the silk you see anywhere will have come from China.
A report issued by China International Silk Forum, held in November, reckoned that over the past decade China made nearly 80 percent of the world's silk. Among the Chinese cities that contribute to that mountain of fabric is Hangzhou, which is said to provide a quarter of the global supply.
In the first half last year, the city exported 44.2 million tons of silk, worth $439 million, the city's customs office says.
"Silk has been a pillar industry of Hangzhou for more than 1,300 years, since the Tang Dynasty (618-907)," says Fei Jianming, chairman of Hangzhou Silk Association. "Hangzhou silk now accounts for 30 percent of the domestic market share. There are more than 1,000 silk companies in the city."
The industry went through a downturn in the 1990s and the early 2000s. Now the city's silk makers have the opportunity to increase their global influence, he says. However, a lot more innovation and creativity are needed to take the industry up the value chain.
"Silk, with its cultural background and scarcity, has long been a fabric of choice among upmarket Westerners, but the industry in Hangzhou, as large as it is, has failed fully to capitalize on that."
In US dollars, the foreign exchange earned through the city's silk exports is only 8 percent that of Italy's and no more than 10 percent of South Korea's, he says.
Tu Hongyan, chairwoman of Wensli Group, the largest silk maker in Hangzhou in terms of sales revenue, says that while China produces the vast majority of the world's silk, it does not have a self-run silk brand that is known to the world.
"The famous silk brands are in European countries such as France and Italy. Chinese companies have long done OEM (original equipment manufacturer) production for those brands. We have done the bulk of the work but earned the least money.
"For example, you will pay more than 3,000 yuan ($510) for a Hermes-branded silk scarf, but how many people know that that scarf comes from China and that we sell it for 100 yuan or less?"
Wensli has been an OEM for foreign companies for more than 15 years, Tu says Gucci, Prada and Dior are among its customers.
Like Wensli, many of the other silk makers in Hangzhou are OEMs, although many also produce brands that are wellknown domestically.
Wu Haiyan, dean of the School of Design of the Chinese Academy of Art in Hangzhou, echoes Tu in talking of the limitation of the country's silk industry.
"Down the ages, Chinese silk has had a magnificent reputation, but barely any Chinese silk company appears in the global showroom. They are limited by textile techniques, their inability to do research and development and their fashion sense. That means they have had to play second fiddle, being content to be OEMs for foreign companies."
In the bleak period of the 1990s, many silk companies in Hangzhou folded. There were serious questions about whether the industry there could survive, Wu says.
One of those that kept its head above water was Hangzhou Dujinsheng Silk Weaving Mill, one of the oldest silk companies in the city. It was established in 1921 and was soon winning widespread acclaim. It was awarded a gold medal at the World Expo in Philadelphia in 1926, it says. At its peak the company employed more than 3,000 people, with more than 60 designers and 600 weaving machines, says Ke Daocun, the company's chief engineer.
Ke, 72, has witnessed the company's many ups and downs in his 40 years of working for it.
"It was one of the largest manufacturing companies in Hangzhou in the 1980s but, since the 1990s, things have gone downhill."
At its lowest point it had just 300 workers and no more than 10 designers-and only 18 machines, he says.
"They say traditional manufacturing industries will eventually die, but I don't think that time has arrived for silk."
Like Ke, Tu has spent a lot of time fretting about the industry in Hangzhou.
"People in the industry have mixed feelings about silk. It is seen as an important cultural symbol and the textile industry looks on it with pride. But there are those who reckon all the glamour is something from a bygone age. It is nigh impossible to get that back."
Tu's concerns for the industry are all the more understandable given that she has not only devoted her life to silk, but that she follows her mother and four other generations of the family on the same path. Her mother spent the best part of a lifetime trying to sell Hangzhou silk to the world with its own brand, a goal that remained unrealized when she retired in 2012.
For China in recent years, transforming and upgrading traditional industries has posed a huge challenge. The silk industry in Hangzhou is no exception. Many industry insiders believe one way of doing this is to make more of the possibilities in cultural industries. For example, silk companies in Hangzhou should consider developing exquisite tourism souvenirs with silk, Wu says.
"You can find silk souvenir products in markets and in tourism spots anywhere in Hangzhou, but they are not exquisite-and they are far from original. Silk companies need to put a lot more effort into designing these things, in particular giving them a distinct Hangzhou style."
As downbeat as some of the assessments of the industry's performance by some insiders may be, things are far from grim.
In November, Wensli set up a strategic cooperation relationship with Marc Rozier, a well-known silk brand in Lyon, France.
Marc Rozier will produce silk scarves for Wensli, while Wensli will share its sales channels in China with its French partner.
"The scarves, under our brand, will be designed, dyed and made in France," Tu says. "The price will be two-thirds that of Hermes'."
The scarves will go into the high-end market in China. The company nurses hopes of selling them in global luxury markets such as France and Italy, Tu says. "The strong impression that this collaboration has left me with is that silk making in France is highly valued. They pay extreme attention to the industry and I think that is why 'Made in France' is such a treasured label."
Tu says Wensli's goal is to become China's Hermes in the luxury market and to keep pace with global fashion.
It augurs well for silk in Hangzhou, Fei says.
"Hangzhou has its advantages in developing the silk industry, including its cultural background, the industrial chain that is already in place and the diversified competition. Not every company should necessarily do what Wensli is doing. But so long as it sticks to innovation and positions its brands accordingly, I think the future is bright."
We recommend: