A Christian stone carving from the Yuan Dynasty (1271-1368) shows a four-winged angel. [Wang Kaihao/China Daily]
Zheng He (1371-1433) led his great fleet on historic expeditionary voyages in the 15th century connecting the West and East, but these only represent a small episode of the Maritime Silk Road, which is probably less well-known than its overland counterpart that crosses deserts and grasslands.
An exhibition in Beijing tells much more of the seafaring story. A show of treasures from the Maritime Silk Road titled Sailing Far and Wide on the Sea is on display at the Capital Museum.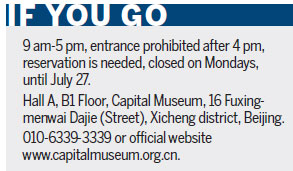 More than 350 exhibits gathered from 51 museums in eight provinces compose this panoramic presentation of China's voyage chronicle, which began in prehistoric times and peaked from the Song Dynasty (960-1279) to Zheng He's time.
"When we take ordinary foods, like peanuts, tomatoes or potatoes, few may realize they first came to China via this Silk Road on the sea," says Wu Zhiyue, head of the Fujian Museum which co-organizes the exhibition. "We feel fortunate to let the outside better understand Fujian's important role in this crucial marine passage for international economic and cultural communication."
Fujian province in southeast China historically has been a major hub for marine trade and overseas emigration. Its city of Quanzhou was one of the world's largest ports in the Yuan Dynasty (1271-1368).
Exhibits include not only exported porcelain, silk pieces and other specialties from China, but daily-use articles from the Roman Empire and West Asia discovered in this country as well as products of ancient international contact, including some of the earliest Christian relics in China. Many items were excavated through underwater archaeology.
"China's large-scale underwater archaeology began 30 years ago, and the public finally got a chance to know our work as a whole," says archaeologist Zhang Wei, also deputy head of the National Museum of China.
We Recommend: