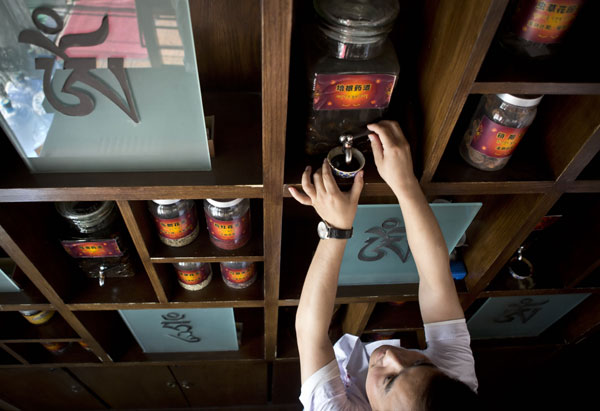 A pharmacist pours medicinal liquor into a cup at Beijing Tibetan Hospital earlier this month.[Photo by Kuang Linhua/China Daily]
The Tibet autonomous region will implement a new regulation next month in a bid to strengthen the protection of indigenous cultures, especially the two that are recognized by UNESCO, local officials said on May 26.
The regulation, a specially modified version of the Law on Intangible Cultural Heritages, which was promulgated three years ago, will take effect on June 1, said Ren Shuqiong, deputy director of the Department of Culture of Tibet.
Tibet will be the 14th provincial-level government to adopt its principles, she said.
The regulation stipulates that governments at the prefecture and county levels should contribute adequate financial support while cultivating young talent to preserve conventional cultures.
Since 2006, more than 3,000 officials have been dedicated to surveying more than 1,000 intangible cultures in the autonomous region. They collected 100,000 transcripts and made 2,000 recordings documenting traditional music, dance and medicines, said Ren.
So far, a fund of 120 million yuan ($19.4 million) was spent in the field, including 90 million yuan from the central government, Ren said.
In 2012, the subsidy for a nationally recognized heritor was raised to 10,000 yuan per annum from the previous 8,000 yuan, said Ji Ji, director of the department's Intangible Cultural Heritage Office.
Tibetan opera, placed on the UNESCO list in 2009, is an ancient traditional Chinese ethnic art form that has developed over centuries. It combines folk dancing, singing and vocal performance. Hailed as a "living fossil" of traditional Tibetan culture, Tibetan opera boasts a history spanning around 600 years - about 400 years more than China's national treasure, Peking Opera.
During the past five years, the autonomous region's government has subsidized more than 100 Tibetan opera troupes, though the tradition is losing popularity among young people as they go to other regions to make their fortunes.
The culture department held competitions for Tibetan opera over the past two years, stipulating that performers younger than 40 years old must account for at least one-third of a troupe, Ji said. "If not, we don't allow the troupe to participate in the contest. In this way, we hope young people can get involved more."
The purpose of maintaining traditions is to let the younger generation understand more about the cultures their ancestors created and preserved over hundreds of years, said Ngawang Tenzin, deputy chief of the Center for Intangible Cultural Heritage Protection in Lhasa.
To achieve the goal, the center organizes performances at schools and selects talented students to practice Tibetan opera, dances and other forms of ethnic traditions, he said.
We Recommend: