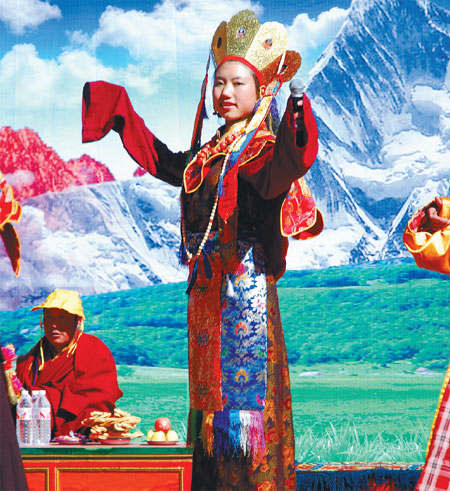 Muya singer Bamu performs on the square of the Juli Monastery in Kangding, the Garze Tibet autonomous prefecture in Sichuan province. Provided to China Daily
One woman's passion for the songs of a remote ethnic people may save not only the Muya's music, but the language itself. Huang Zhiling reports from Chengdu.
Muya music might already be lost if Yang Hua had not given up her job as a mathematics teacher.
Yang taught in a well-known primary school in Chengdu, Sichuan province, for three years after completing her college studies. But thanks to her childhood love of music, Yang became a postgraduate student in the department of composition at the Sichuan Conservatory of Music in 2004. Two years later, she became a teacher in the department.
"I started learning how to play the accordion and the piano at 5. Passion for music has motivated me to record Muya music and introduce it to the world," says the 35-year-old in her studio on the 21st floor of a residential building in Chengdu.
The area between the Yalong and Dadu rivers in the Garze Tibet autonomous prefecture in Sichuan is called Muya and its inhabitants are the Muya people, considered a branch of Tibetans. Their land is surrounded by Tibetan-inhabited areas, but the language of the Muya and their music are different from those of Tibetans.
Researchers have diverse views on the origin of the Muya. Some think they are descendants of the Tangut ethnic group who founded Western Xia (1032-1227), a feudal kingdom at the eastern end of the ancient Silk Road. They migrated to their current base after their kingdom fell to a Mongolian invasion.
"Others believe they are aboriginal Tangut people who have lived in the Muya area since ancient times," Yang says.
With a population of some 10,000, the Muya people are scattered in Kangding, Daofu, Jiulong and Yajiang counties in Garze. Due to strong influence of the Tibetan language, many of them no longer speak, let alone sing, in their mother tongue. They have no written language.
We Recommend: