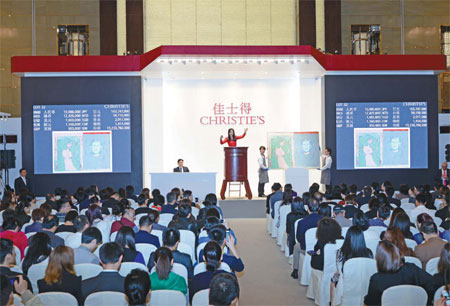 The auction scene in Christie's 2014 Spring Auction in Shanghai in April. Christie's' global sales reached $7.13 billion in 2013, up 14 percent from a year earlier. Provided to China Daily
Auctioneer looks to China to build on record industry sales for last year
Six months ago Christie's debuted on China's mainland as a sole-funded international auction house. Cai Jinqing remembers the live auction well and talks animatedly about its unexpectedly warm response.
Cai became Christie's China president in February, promoted from managing director in the firm she joined in 2012.
Christie's is the world's leading auction house by sales and the first international fine art auctioneer licensed to operate on China's mainland independently.
That first auction, in Shanghai last September, drew attention across the industry, from art collectors, buyers, artists and investors. It grossed 154 million yuan ($24.98 million).
Pablo Picasso's Seated Man, sold for 9.6 million yuan. It was the first work to sell on the Chinese mainland by arguably the most important artist of the last century.
"We were really thrilled at the warm responses from all kinds of participants in the circle, from buyers to media reporters," Cai said. It "was far beyond our expectation."
About two-thirds of buyers came from the mainland, the rest from over the globe.
The sale showcased China's potential and fueled Christie's confidence to develop in the world's fastest-growing art market.
Christie's has embarked on building closer connections with local clients and improving services throughout the process; from storage to post-sale client services.
"We offer the global service experience to our local clients with our global team of employees, from experts in different art categories to the operational staff," Cai said.
Although Shanghai-based, behind every expert or staff member here there is a global team guaranteeing local clients get the same service as in New York, Paris or London, she said.
The London-based firm was established in 1766. Its experience, talent pool and reputation is global. Still, it's restricted from selling Chinese cultural relics such as porcelains, ancient paintings and some antiques. That makes it tough to predict Christie's prospects in China.
It needs to work out how to adapt to government restrictions and differences in domestic tastes compared with those overseas, according to observers.
We Recommend: