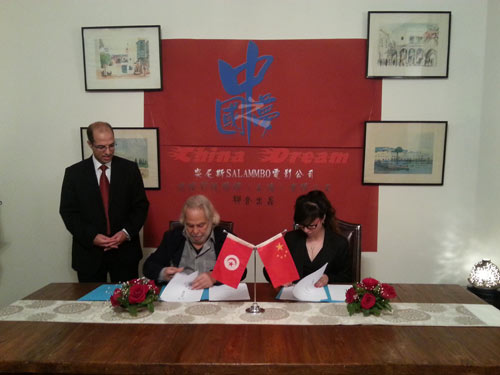 A contract was signed with a Chinese production company at Tunisia's embassy in Beijing for an eight-week shooting, including 5 weeks in China and 3 in Tunisia.
It is apt that the title of Rachid Ferchiou's latest film matches the mantra of China's new leadership in seeking the nation's revitalization.
The renowned Tunisian director's "China Dream," currently in pre-production in Beijing, is the first Sino-Tunisian co-produced film.
"I came up with the name first. It was some five years ago," joked Ferchiou, as he spoke to Xinhua on Friday.
The 72-year-old helmer established his international reputation with bold political films such as "Autumn of '82" and "Checkmate Mr. President!"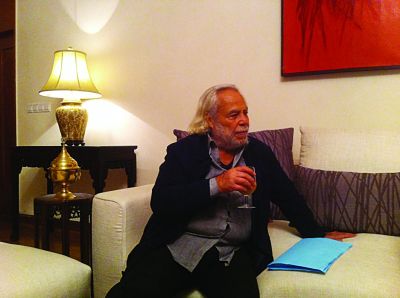 Tunisian director Rachid Ferchiou.
This time, however, he is making a transition to an equally universal, but much softer theme -- love.
"The reason is very simple, because my heart is full of love for China," Ferchiou said.
"China Dream" tells the story of a young Tunisian woman who has long dreamed of visiting China since a childhood in which her father often traveled to the oriental nation.
When she finally gets to come to China, it's to look for her father. While there, she meets the love of her life.
"I had this story in my head five years ago and it has become my China dream to make it a real film ever since," explained Ferchiou.
"But it won't be easy. Tunisia and China are two countries both with hundreds of years of civilization. We are far away from each other and there is a lack of deep understanding between us," he said.
"But love is the bond of the heart. I will tell a love story for the people of the two countries."
This is also the first Chinese film to be shot in Tunisia. Preparations are going smoothly, according to the director, who believes the project will boost Tunisia-China cultural relations.
We recommend: