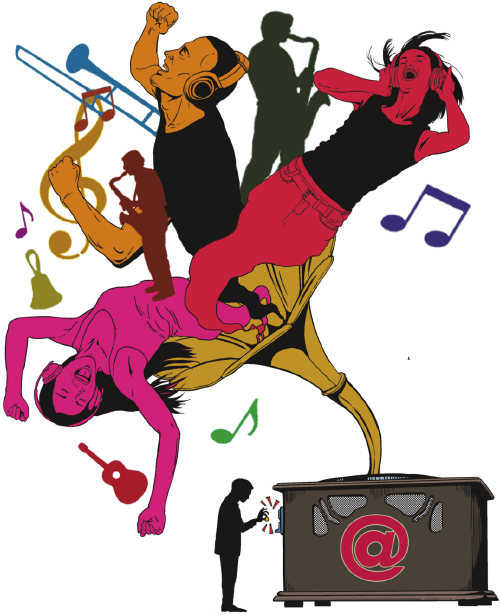 LI FENG/CHINA DAILY
The growing appetite of music fans worldwide helped drive trade revenue growth in most major music markets in 2013, with overall digital revenues growing 4.3 percent.
The findings were detailed in the International Federation of the Phonographic Industry's annual Digital Music Report.
The report also announced that revenue from streaming and subscription services leapt 51.3 percent globally, crossing the $1 billion threshold for the first time.
As for China's music market, which has been in the doldrums due to rampant copyright violation, there is good news. The report calls China "the new hope for a licensed music market".
"The landscape for the music industry in China is changing. Over the past two years, major record companies and some independents have licensed eight of China's major online music services. Most of them were previously infringing copyright," the report says.
China's music revenues in 2013 were estimated at $82.6 million, ranking 21st in the world. The opportunity for the music industry lies in China's vast Internet population, with 618 million users in 2013, of which 81 percent were connected to mobile phones, according to the report.
In 2011, a landmark agreement was made between three international record companies and China's Internet giant Baidu. The agreement involved the settlement of anti-piracy litigation and a commitment by Baidu to close its service that infringed.
"The Baidu deal was a trigger that led to other Internet companies changing their approach and becoming licensed," says Sunny Chang, president of Universal Music Group International's China region. "We believe that in three to five years, the market will be open and China could be one of the top markets in the world."
There are also challenges ahead. According to Song Ke, one of China's most prominent music industry veterans, a study published by the China Music Industry Committee in 2012 found that the total estimated value of the digital music sector in China was about 30 billion yuan ($484 million), but it also estimated that a very small share of that revenue, less than 3 percent, was being shared with copyright holders.
Song also made a comparison with China's booming film industry, in which box office returns are being plowed back in for re-investment into local film productions.
"A paid model will encourage investment in local artists and help develop a thriving Chinese music business. But nowadays, it isn't just piracy that is our problem. We have to get a fairer distribution system that motivates our industry, just like in the film industry," Song says.
Song, the former head of Warner China and now the general manager of Evergrande Music, launched the Evergrande Star Music Festival that played 60 dates in 60 cities around China last year. The festival breaks with the traditional format of outdoor music festivals in China, which usually just tour big cities, such as Beijing, Shanghai and Guangzhou.
To attract audiences, tickets for the music festivals cost about as much as a movie ticket—less than 100 yuan. Earlier this month, Song announced the 2014 festival dates, which will continue last year's format.
"In China, a majority of people now use legal music, which is a very good environment, but the big question is how can we transfer consumers from free to paid," says Lei Ming, CEO of Kuwo Music, one of the leading services in China, which runs a paid offering alongside its free streaming service.
Baidu, China's largest search engine, offers a free music streaming service and a paid-for tier offering expanded cloud storage space and high-quality larger files. Like Kuwo Music, the vast majority of Baidu's users choose the free-to-consumer option.
Kaiser Kuo, director of international communications at Baidu, says: "Baidu has an ad-funded model and our core strategy is based on online advertising and dominating consumers' main points of entry to the Internet."
The largest digital service is China Mobile, with 700 million users in total and 50 million active paying ring tone customers. In addition, there are 20 million paying subscribers to the operator's subscription and limited-download music service, Migu Music.
"It is not just recording companies and musicians in China who want to get to this paid-for model—it's the objective of the operators, too," says Liu Yuxing, assistant of the general manager of China Mobile Music Base.
The Chinese government has given support to the paid model. "The time for paying for music in China has already come. This is not just a principle, but also a necessary practice," says Yan Xiaohong, vice-minister of the National Copyright Administration of China. "But what is also important is that, whichever way we choose, whether it be the paid or advertising-supported model, we must make sure that rights holders are rewarded."
Yan also says the government has stepped up actions both in enforcement and promoting consumer awareness of intellectual property rights.
"Nine years ago when I started in this role, we were talking about copyright theoretically but since then dramatic changes have happened. Criminal penalties for copyright infringement have been strengthened and enforcement against illegal sites intensified," Yan says.
We Recommend: