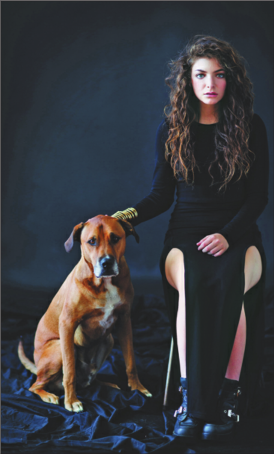 Grammy award-winner Lorde releases her new album Pure Heroine.[CHINA DAILY]
A month after winning two Grammy awards for song of the year and best pop solo performance for her first single Royals, 16-year-old Ella Yelich-O'Connor, who performs as Lorde, has released her album, Pure Heroine, in China.
The album had nabbed two additional Grammy nominations, record of the year and best pop vocal album, and the singer-songwriter is still ecstatic.
"I am very excited and very honored. Obviously it's so incredible that I would win the Grammy. I feel very lucky," she says.
The song Royals was a No 1 hit in the United States, the United Kingdom and Lorde's homeland New Zealand.
She says she didn't expect millions of people to relate to the message in the song, which she wrote for herself and for her friends.
"I just thought that was kind of funny, you know, it was our wild world. I didn't realize it's a lot of people's wild world as well," she says.
According to Lorde, she wrote the song with an idea about feeling real, royal and from where she is really from. The boys in the music video are her friends from school, and one of them was wearing her jacket.
"We filmed it in my hometown, where I got training every day. I just want to show teens doing the stuff that teens actually do. It's just boutique and boring, not very cool," she says.
Born to a poet mother and an engineer father, she started singing and acting at the age of 5. She was in a school talent show at 12 and later was offered a contract by Universal Music.
Though she says that she has been singing her whole life, she didn't really know the art because she was not a songwriter at that point and she was not sure whether she wanted a career in music.
Then she signed a development contract and she met her writing partner and producer Joel Little. When she writes songs, she doesn't bring any instruments. She just uses her voice and makes quick sample beats with her computer.
"From that point, we just sort of head off really quick with the writing. I know what I want to make and what I want to do," she says.
Her main inspiration has come from short stories. The first short-story writer she read was Raymond Carver, who has "a really minimal way with words" and inspires her.
When it comes to lyrics, Lorde says that she has to be accurate—they must describe something that actually happen to her—because it's meaningful to her.
Rolling Stone magazine wrote, "Lorde's languidly aphoristic lyrics balance rock-star swagger and torqued-up teenage angst" and that her lyrics "have a rattle-nerve pathos and power like nothing else going in 2013". Critics called Pure Heroine "an album of a generation".
For the young singer-songwriter, who grew up listening to soul musicians Etta James and Otis Redding, and drew musical inspiration from electropop artists, such as James Blake, she describes the album as "all the things going along with being 16 or 17, living in the suburbs and feeling those things that you felt".
As she launches her North American tour in 2014, Lorde says that she likes being onstage though it's a little bit stressful, since everything is done in a rush.
"I like being in a kind of calm environment," she says.
We recommend: