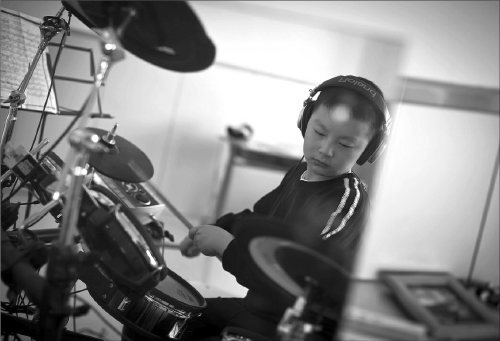 LIU BIN/XINHUA
Chao Chao, a fourth-grader with autism, practices electronic drums for a performance at Beijing Guomei Jiayuan Primary School.
Music therapy is gaining wider acceptance in China, as mentally challenged youngsters are exposed to classical music and learn to play instruments in programs that help them find harmony with the outside world, Chen Nan discovers.
Yang Xinli knew that her daughter, Huan'er, was different from other children soon after she was born in 1990. She easily lost her temper, couldn't sleep well and had no eye contact with people. None of that fazed Yang and her family until a psychologist Yang met at a bus stop suggested that her daughter's crying and screaming were not normal.
Yang took Huan'er, who was then 20 months old, to the hospital and was told that her daughter had Asperger syndrome, an autism spectrum disorder.
Shocked and depressed, she went to many hospitals in her hometown of Xi'an, Shaanxi province, and tried every possible treatment to help her daughter.
Two years ago, Yang was introduced to the Xi'an-based KBL Music Therapy Studio. Music therapists there have helped her daughter find a more positive outlet for her emotions through sessions that involve listening to classical music and having her daughter play instruments and sing.
"She makes much more eye contact with me now and she sings well," says Yang, who takes her daughter to such classes twice a week. "She enjoys being part of the group."
Yang hopes that her daughter's progress means she will get a job after graduation a year from now, like "normal" students.
"I am still worried about her future but I hope she will be part of society and enjoy her life," she says.
Such is the potential of music therapy. Ever since a group of Chinese musicians came back from overseas, bringing modern theory and technique back to China in the early 1980s, music therapy has developed fast. It has been used by many hospitals in China, especially in the mental health field, according to Cui Yong, chief doctor of the rehabilitation center of Huilongguan Hospital, which was among the first hospitals in China to embrace it.
He notes that some universities, such as Central Conservatory of Music in Beijing and Northeast Normal University in Changchun, Jilin province, offer a major to train music therapists.
"I can see a growing need for music therapists from the increasing number of people who have come to my studio," says Ma Xiao, 24, who became a music therapy volunteer in Xi'an when he was 18 and later founded KBL Music Therapy Studio in 2011.
His clients range from children with emotional problems, autism and cerebral palsy to students with examination anxiety. Now, three music therapists are working at Ma's studio and they have treated nearly 300 children with the stimulation of sound.
According to the statistics from the Chinese Center for Disease Control and Prevention, more than 100 million Chinese have various forms of mental disorder and 16 million of them are severely mentally ill.
Ma says his father, who is the director of a Xi'an-based public hospital, motivated him to make music therapy his career. After studying the piano at Xi'an Music Conservatory, Ma went to the Central Conservatory of Music in the capital for further training.
Besides helping children with emotional problems, Ma also has cooperated with hospitals in Xi'an, treating cancer patients and women with postpartum depression.
Ma uses the waist drum, a widely used folk instrument of northwestern China.
"Patients feel familiar about the instrument and they have the urge to play it. That's what we want, their active response and participation," says Ma, who uses a mix of improvisation and proven techniques.
Ma says that music therapy is an emerging field in China and many people still know little about it. He is working with Xi'an Music Conservatory to launch a music therapy major.