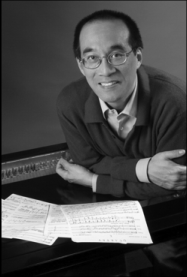 CHINA DAILY
Derek Han is successful in both music and the business world.
Derek Han visited Beijing recently and was busy with two major events. The established Chinese-American pianist performed at the National Center for the Performing Arts, playing pieces by Mozart, Beethoven and Chopin. He also gave a speech about the future role of the Chinese yuan as a world reserve currency, at the office of China Securities Journal, a newspaper under Xinhua News Agency.
As an internationally celebrated pianist and the chairman of North Square Blue Oak, a specialist investment bank with a strong focus on China, the 56-year-old says he enjoys switching between the two roles.
The beauty of music, he says, is it's very sincere and straightforward, which speaks directly to the heart, while in the business world, everyone is complicated and tries to find shortcuts.
But there are similarities between the two worlds. "Art teaches us that if it's not sincere, it won't last. It's the same thing in business," he says.
For Han, who was born in Columbus, in the US state of Ohio, music always comes first.
He has played in the world's greatest venues and given private performances to three US presidents.
In 2013, he had 55 recitals around the world, including touring with the National Symphony Orchestra of Argentina in Buenos Aires, the Sofia Philharmonic in Europe and the English Chamber Orchestra in London.
In 2014, he will perform with Moscow Chamber Orchestra at the Kremlin in Moscow and with orchestras in Israel and Istanbul.
"I try to be as faithful as possible to what I believe the composer wanted. We are really very small compared to the genius of the composers," Han says. "Every time I play their works, I ask myself: 'How is it possible for a human being to compose such a great work on a piece of paper?' To me, it's a miracle.
"My role is to try to transmit some of the greatness of the music to the audience, to share the pleasure I have."
Upon graduating from Juilliard at 18, Han left for Europe and soon won the Gold Medal at the Athens International Piano Competition, which catapulted his career. Besides live performances, he has recorded complete concerto cycles of the likes of Mozart, Haydn and Beethoven.
Though Han was not born in China, he says that he has inherited some good traditional Chinese values from his parents, who came from Beijing and Shanghai, especially the virtue of working hard.
"When you see China's development during the past 20 or 30 years, you have never seen such huge economic growth," he says. "It's really about working hard and sacrifice."
Business comes naturally because of his family's tradition. Together with his artistic career, Han has been a foreign exchange adviser to Frema Invest SA, a private asset management company in Lugano, Switzerland, since 1985. In 1989, he was extensively involved in the sale of the family company in Italy. Three years later, he became the managing director of an Italian real estate firm.
In 2000, he became a founding partner of a private Swiss bank in Zurich and a board member. In 2001, he was elected chairman of the board of the bank, one of the very few cases of a foreigner approved by the Swiss Federal Banking Commission as a private bank head. In 2003, he joined Blue Oak Capital Ltd in London as a partner and member of the board of directors.
Like many businessmen, Han travels extensively. In the past year, he spent much of his time in Beijing because he is optimistic about China, both in the business and art worlds.
"In business, it's really not a spiritual world. One must be very practical. At the same time, if you do things properly, people do respect that," he says.
"I don't think it's necessary for one to be successful all the time because no one can be. You just try the best you can."
We recommend: