China's National Center for the Performing Arts marked its 6th birthday in Beijing on December 22 with a day of non-stop song and dance for tens of thousands of people...all free of charge!
The NCPA transforms itself into a kingdom of festivities, with music emanating from every corner. One of the busiest performance venues in Beijing is seeing one of the busiest days of the year, and in its history, since opening in 2007. Over 69 performances, 11 screenings and forums and a cornucopia of exhibitions in the course of one day. Visitors are literally showered in art.
What's truly neat is that the NCPA has done away with the concept of the stage here. The halls and lobbies are decked out with real characters from famous plays and dances. And who says you can't watch opera in the coffee shop?
Known to many people as one of the capital landmarks constructed to celebrate the Beijing Olympic Games in 2008. Since then, the NCPA has been on an Olympic mission to be one of the most active performance, art and culture learning centres in the world.
And don't worry about finding a babysitter while you're here. The whole venue is completely children- and family-friendly. There are things to see and to do, no matter what your level of talent is.
The event has invited some aspiring young talents to perform. A group of students at the National Academy of Chinese Theater Arts preparatory school shared their gifts for Peking Opera on the exquisitely hand-crafted silver stage.
Traditional songs and dance aside...those who prefer something more exotic also won't be disappointed. Thanks to this joyous day at the NCPA, the holiday season seems to have been rung in even sooner!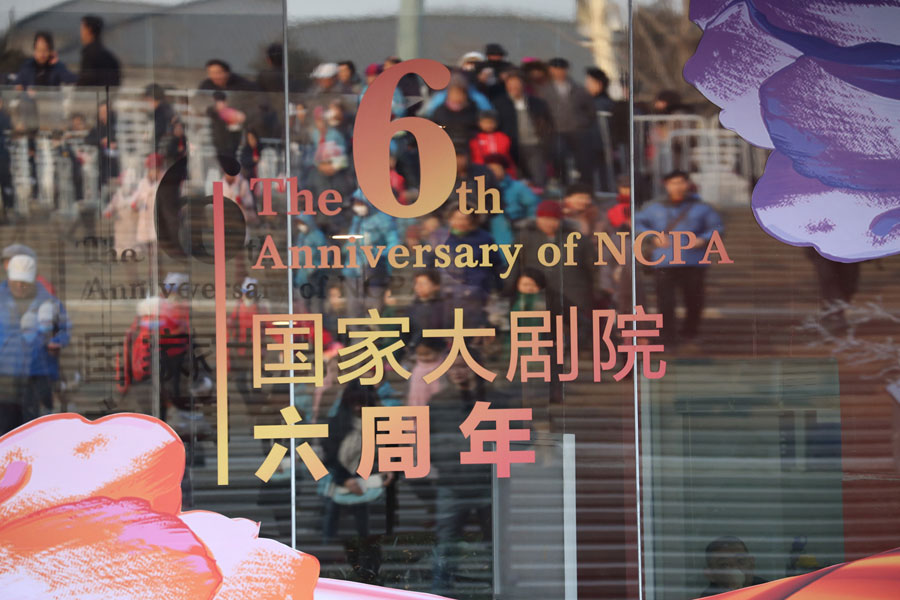 The National Center for the Performing Arts (NCPA) celebrated its sixth anniversary in Beijing on Sunday with various art performances and activities. Sunday also notes a designated Public Open Day of the NCPA. [Photo/NCPA]
We recommend: