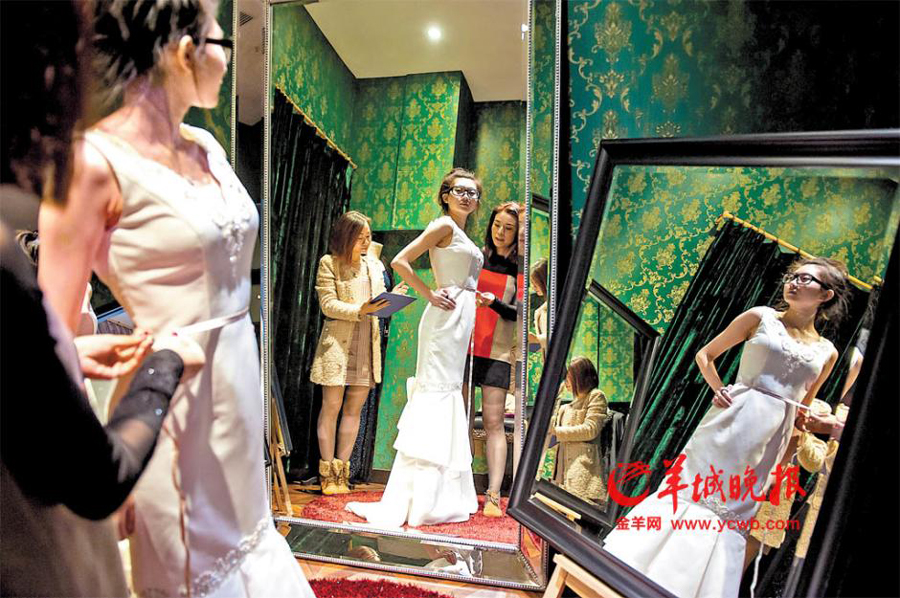 A designer adjusts the size of a client's custom-made dress. (Photo/YCWB.COM)
While ready-to-wear dresses still dominate the Chinese market, custom-made fashion is gradually attracting the upper class customer. In 2007 there were no buyers for a 10,000 yuan custom-made dress offered for sale in Shenzhen; today, 100,000 yuan custom-made dresses are regularly snapped up in a week. Many entrepreneurs, celebrities, and show biz personalities now prefer to buy a luxurious and unique dress. Growing sales of custom-made dresses are a consequence of more high-end events hosted by Shenzhen's wealthy.
Reasons to opt for a luxurious custom-made dress:
With more high-end parties being hosted by Shenzhen's rich, the wealthy want to buy custom-made, exclusive products that allow them to display their taste and style.
Ms. Shen, an entrepreneur, said she wore a high-end three-piece suit to attend her first cocktail party, and found all the other ladies dressed in full length ball gowns or Cheongsam, and all the men dressed in tuxedo or traditional Chinese garments. "The hostess's dress was embroidered with gold thread and encrusted with Swarovski crystals, and of course the perfectly-fitting dress indicated that it was definitely custom-made – it must have cost 128,000 yuan. I was embarrassed that I hadn't worn something suitable for the occasion."
For some, dress is a big issue.
Xu Yuyan, a TV presenter from Shenzhen Media Group, has hosted many high-end parties, and she doesn't want to wear a dress that might be the same as anybody else's when she presents her TV program. So she buys a custom-made dress for every event she hosts. She says that any public figure who wears a dress she has already worn before, or who appears in the same outfit as another celebrity, will soon find herself the subject of comment.
Mu Yan, boss of a custom-made dress shop, said designer items can make the wearer feel special, and are an excellent way to boost people's social status.
Some say costliest does not mean best
Le Jun, head of COSCO south China international , says the custom-made dress need not always be costly, but must be suitable for the occasion. "The choice of casual or formal depends on the occasion, but the most important thing is that you look good and feel comfortable."
And Hu Yeqiu, an authority on culture from Shenzhen, shares this view. He says that the best custom-made dress is not necessarily the most expensive one, but the one that best suits the wearer. Don't be a slave to cost, spending large sums of money on luxurious clothes in which you don't feel comfortable. Choose the lifestyle that you enjoy, not the one that costs the most money.
We recommend: