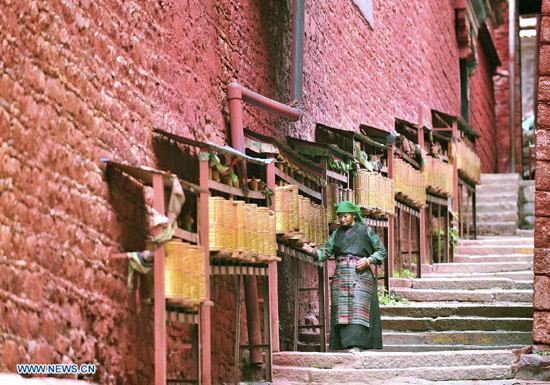 A pilgrim spins prayer wheels for a blessing at the Tsurpu Monastery in Doilungdeqen county, Southwest China's Tibet autonomous region, July 10, 2013. Founded in 1189, Tsurpu serves as the traditional seat of the Karma Kagyupa, or "White Hat Sect," of Tibetan Buddhism.[Photo/Xinhua]
The 2013 China Tibetan Culture Week will be held in Germany from Oct. 23 to 29, according to a government statement released on October 22.
The event, which is the first of its kind to be held in Germany, aims to offer German people a glimpse of Tibet's beauty, culture and economic development and promote international friendship, according to the statement.
The event will open in Berlin and Munich and will highlight various performances featuring Tibetan folk culture, forums with Tibet experts and senior monks as well as book and picture exhibitions.
The Tibet-themed culture week has become a popular event for showcasing to the world the real Tibet under the administration of the Chinese government. The culture week has toured over 11 countries since 2001, including Australia, Canada and Spain.
We recommend: