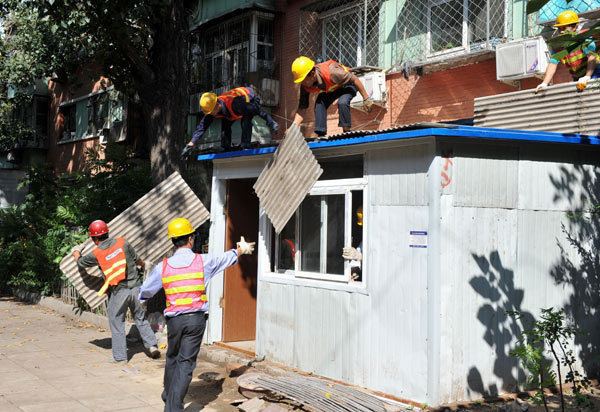 Urban patrol officers, known as chengguan, organize the demolition of illegal buildings in a Beijing community on Sept 10. Pu Dongfeng / for China Daily
Rampant illegal construction has put Beijing's historic hutong in danger of disappearing.
That's the warning from residents and historians, who have called on authorities to do more to protect this unique part of the capital's culture.
Hutong are narrow alleys and were traditionally lined with siheyuan courtyard residences.
In 2000, Beijing still had 1,300 hutong, according to amateur historian Zhang Wei. But he estimates that since then, at least half of them have disappeared.
He blames rapid urban development and unchecked illegal construction.
"Buildings have been built without permission by residents who want to improve their living conditions but don't want to move," said the 36-year-old, who runs the website oldbeijing.net.
The Dongcheng district urban patrol authority demolished a rogue second-floor extension of a house in Dongsi Qitiao on Sept 23 after the property owner refused to remove it, Beijing Evening News reported.
In August, the Beijing government demanded the demolition of illegal structures at five buildings in major urban areas, including the one in Dongsi Qitiao.
The city launched a campaign to demolish illegal buildings throughout the city, including in hutong, in March.
According to regulations, people can report illegal buildings to urban patrol officers, known as chengguan, and buildings found to be illegal will be demolished by force.
However, a China Daily reporter found that it was not an easy task, and lots of additional structures built by their owners were found in hutong.
In another Dongsi hutong, an area famous for old communities, residents said many illegal buildings that have been built over the years still stand today.
Many owners added a second floor or even more floors to their houses, especially in buildings near main streets, in order to rent more apartments and make more money.
The alleys in the area have become very narrow because of some additional buildings between houses.
Zhang, the historian, said that to better protect the hutong, the government should offer more compensation to residents willing to move away.
Guo Dazhi, a photojournalist in Beijing, lived in a hutong for nearly 30 years before moving to eastern Chaoyang district. He made a recent trip to the hutong where he lived, and noticed the structure of the hutong had been seriously damaged.
"In my memory, houses in hutong looked very large and were well-planned. But now the alleys are too narrow," Guo said.
Too many additional buildings have been constructed, which changed the original functions of old buildings, he said.
Guo hopes that the government can solve the problem by moving residents out of hutong with policies such as public renting programs.
Then the hutong should be preserved according to its original structure, he said.
However, the Beijing Commission of Urban Planning said in a report in July that the relocation of residents from old areas was very expensive.
According to the report, allocating 10,000 residents costs 1.5 billion yuan ($246 million).
The government could introduce social capital for investment in infrastructure and to repair old buildings involved in preservation, the report said.
We recommend: