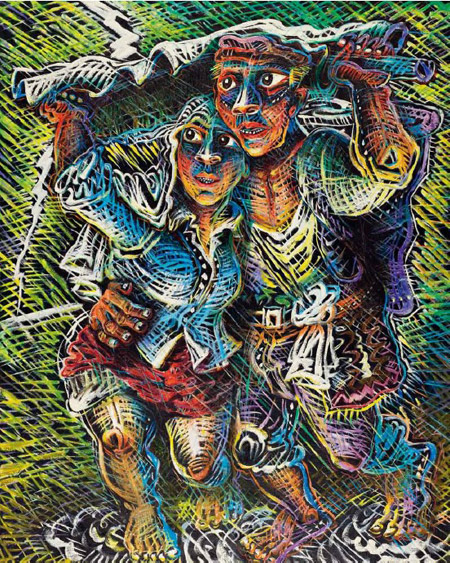 Chinese Style, Paintings of the Times features works by both young promising artists and established ones, including Rain by Luo Zhongli.
Ever wonder about the overall state of the country's fine arts? The National Exhibition of Fine Arts has put together more than 600 pieces to give a comprehensive picture of the Chinese art scene.
Titled Chinese Style, Paintings of the Times, the exhibition was launched on Oct 12 in Jinan as part of the monthlong China Art Festival hosted by Shandong province.
The triennial exhibition has collated Chinese paintings, prints, watercolor, oil paintings and sculptures across three floors of Shandong Art Museum.
Exhibits include works selected from a nationwide pool of more than 4,600 entries and solicited pieces from established artists, such as Lu Yushun, Liu Dawei, Luo Zhongli and others.
"This gallery shows the state of Chinese arts over the past few years, they are very representative of our time," says Liu Dawei, chairman of the China Artists Association who also reviewed the entries of various subjects and artistic forms.
"The trend on display is very obvious, you could tell by comparing to the last exhibition three years ago," says Pan Lusheng, a member of China National Academy of Painting.
"For one, it's much more comprehensive. It also shows a positive attitude toward life and the future, in line with the times," says Pan, also president of Shandong University of Art and Design. "Arts are the first language to parse the contemporary society, and these items come from the country's mainstream."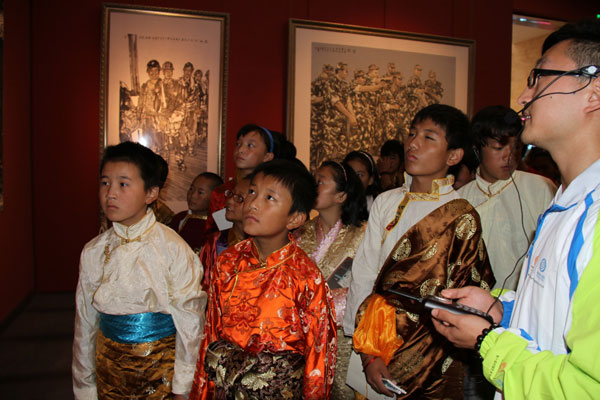 A group of Tibetan students take a tour around the art gallery.
"You see profuse new ideas, concepts and expressions. I feel very encouraged to see the creative freedom from the younger generation of artists," says Wang Yingchun, a painter and council member with China Artists Association.