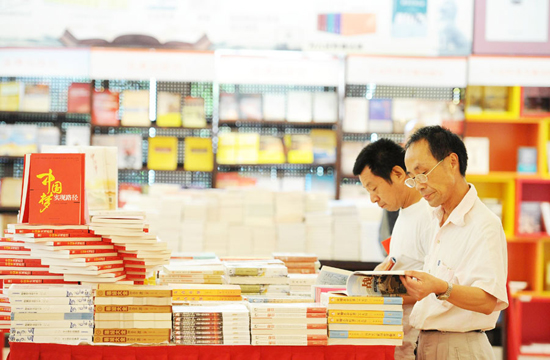 People read books during the 2013 Shanghai Book Fair in east China's Shanghai, Aug 14, 2013. The seven-day book fair kicked off on August 14.[Photo/Xinhua]
The Shanghai Book Fair opened on Wednesday with organizers taking measures to help shield visitors from an ongoing heat wave.
The book fair has installed spray-cooling facilities in a waiting zone in front of the Shanghai Exhibition Center to cool visitors.
"This will lower the temperature by around 3-5 degrees," said Kan Ninghui, vice-director of the Shanghai press and publication bureau.
The fair also extended its opening hours to 9 pm so people can visit in the evening, when temperatures are cooler.
A grand festival
The annual fair is celebrating its 10th anniversary this year and has made extra efforts to better serve book enthusiasts.
"We decided to cancel the grand opening ceremony and reception and turn our efforts and resources to serving readers and colleagues in the publishing sector from all over the country," Kan said.
The fair will be open to the public for seven days, until Aug 20. During that period, 900 guest authors and scholars will meet readers at more than 640 lectures, book signings and other events.
Among the more than 200 new publications to be released at the fair, one special highlight is the re-release of a basic science book series for children and teenagers entitled Shi Wan Ge Wei Shen Me (100,000 Whys).
The series, which launched its sixth edition at the fair, is a collaboration between China's top scientists.
More than 10 academicians from the Chinese Academy of Sciences came to celebrate the book launch at the Jinjiang Hotel on Tuesday.
The fair is also providing a free full-coverage Wi-Fi connection and 10 mobile equipment charging stations for the first time.
"Readers often use their mobile phones to scan the bar code or QR code of a book," said Song Ling, an editor with the Shanghai Translation Publishing House. She added that all books would be sold at a 20 percent discount.
We recommend: