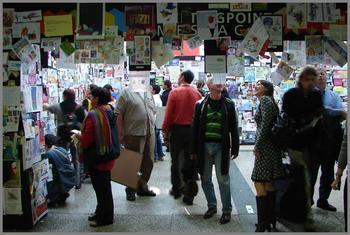 The Bologna Children's Book Fair, the most important international event for the children's publishing and multimedia industry, offered a platform for Chinese writers to conduct cultural exchanges with counterparts from other countries.
Renowned children's writers from China and countries from across the world shared their views during the 50th book fair, which closed on Thursday, in two "valuable dialogues" held inside the nearly 100-square meter space of China Children's Press and Publication Group (CCPPG).
"There are a lot of things in the world. No matter how far away people are from each other, there can be mutual understanding," said Cao Wenxuan, famous Chinese author of children's books and professor of literature at Beijing University.
"I really enjoy the stories told by Chinese writers. China has so many outstanding writers of children's literature," said Maria Teresa Andruetto, winner of the Hans Christian Andersen Award known as the "Nobel Prize for children's literature."
The Argentine writer said she believed that China's works of children's literature will be able to "shine in the international awards."
In the fair, which is reserved to professional operators, thousands of exhibitors and global professional trade representatives can find the very best of children's publishing and multimedia products.
A number of meetings, seminars and lectures offered opportunities to increase contacts and hone skills in various sectors of the children's copyright market.
Although there are 367 million children in China, even more than the total population of the United States, yet sales of children's books in China are far less than the latter.
In developed economies, children's publications account for 20 percent of the book market share, compared to China's 12 percent.
However, the gap offers a huge potential for development in this Asian country which undoubtedly has the biggest market of young readers in the world.
While exhibiting for the first time as a writer of children's literature at the Bologna Children's Book Fair and surrounded by a number of professional visitors, Vice-Chairman of the Chinese Writers Association Gao Hongbo was confident in the brilliant future of the cultural sector in China.
He wished that China's cultural industry will help the country promote its best traditions, and tell a great story together with the entire world.
Source:Xinhua
Editor:JinXin