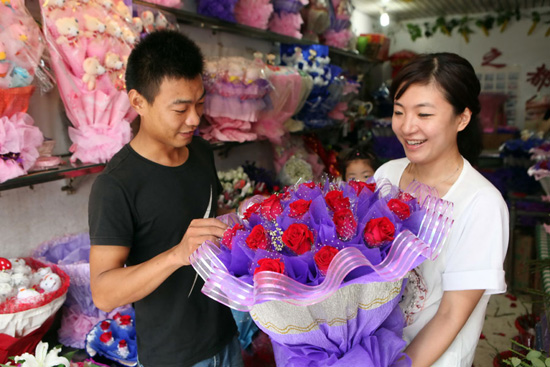 August 12, 2013. Ganyu county, Jiangsu province. A customer buys a rose bouquet at a florist shop. With Qixi, or the Chinese Valentine's Day approaching, many shops are playing the romance card to attract customers. [Photo by Si Wei/Asianewsphoto]
Celebration of this festival dates to the Western Han Dynasty (206 BC-AD 24). During the festival, people, mostly women, would perform rituals such as threading needles to pray for wisdom, beauty, and good skills in needlework, and some would make wishes to marry the right man.
"Most of the rituals were hosted in private gardens of their houses and restricted to women and young children," Ye said. "Love is only a small part during the traditional rituals, different from the current Qixi Festival."
Ye said that calling the festival "Chinese Valentine's Day" is not acceptable. Businesses' over-promotion of love on this day will lead young people to forget the traditions of Qixi Festival, which have been passed down for over 2,000 years.
"The government needs to promote lessons on Chinese traditions such as the folklore and festivals, and on ancient philosophy, literature and history, thus helping young people keep the traditions amid changes in modern society," he said.
His questioning of the current Qixi theme struck a chord among other folk experts, including Zhang Bo, associate professor at Beijing Union University.
"It's important to keep pace with the times to cater to the public, so the Qixi Festival is not restricted to women but is a day celebrated by many people, which also indicates a raising of awareness of women's rights nowadays," she said. "But the essence of traditions cannot be changed."
She said the current passion on the day, which is used to celebrate their love, can be helpful in promoting traditional customs to the public, if the governments uses it well.
"They can use various ways such as organizing traditional activities to transfer the public's attention to the origins and rituals, inspiring young people to learn more about the festival rather than seeing it as a counterpart to a Western festival," she said.
We recommend:
Special Coverage: