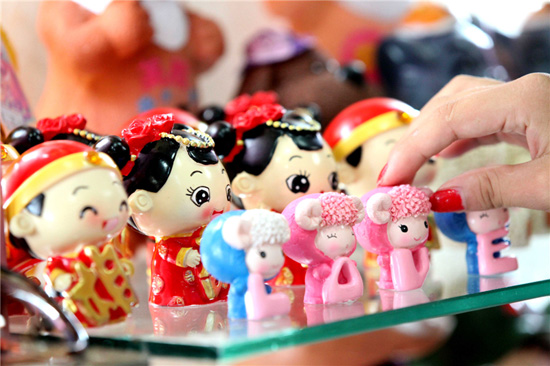 Some ornaments for Qixi, otherwise known as Chinese Valentine's Day, are displayed in a shop in Bozhou, Anhui province, August 11, 2013. As the Qixi festival approaches, many shops in Bozhou are selling Valentine's Day items, to satisfy the needs of young lovers. Every year, Chinese Valentine's Day falls on July 7 of the Chinese lunar calendar. [Photo by Liu Qinli/Asianewsphoto]
Romantic words on shopping malls and various gifts during the Qixi Festival get lovers' attention, but many cultural experts frown on the promotions.
"The current theme of the Qixi Festival, falling on the seventh day of the seventh lunar month every year, is known as "Chinese Valentine's Day", with a focus on love, but that theme is quite different from the traditional customs of that day," said Ye Shuxian, vice-president of the China Society for the Study of Folk Literature and Art.
"Many young people know little about the traditions, and are only interested in business promotions on love, making me feel sad for them and the fading of traditions."
The Qixi Festival, also called the Qiqiao Festival, has its origins in a love story.
Legend goes that Zhinu, a goddess, fell in love with Niulang, a mortal man, and had two children. But their love was not allowed, so they were separated on opposite sides of the Silver River (Milky Way), becoming the stars of Vega and Altair.
Only on the day of the Qixi Festival can they reunite on a bridge formed by the world's magpies.
We recommend:
Special Coverage: