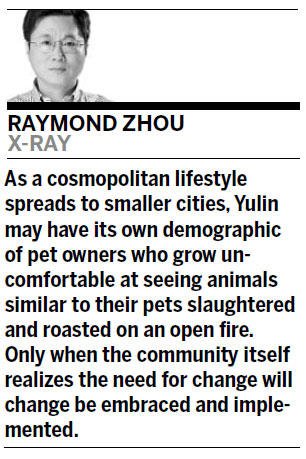 Culinary cultures vary greatly even within one country. What is acceptable in one community could be gravely offensive to another. Building consensus may be futile, but mutual respect could be attained by taking a step away from confrontation, writes Raymond Zhou.
In the heat of summer, most people want to cool off. But not those in Yulin. Residents of this city of six million in the Guangxi Zhuang autonomous region prefer to counter heat with heat. They celebrate the hottest day of the year by eating dog meat, which, in traditional Chinese thinking, is supposed to generate "heat".
News of this local holiday has been generating another kind of heat - protests from pet lovers and animal rights defenders.
Locals seem surprised and puzzled that their favorite pastime would be interpreted as cruelty to animals. For them, dogs are a source of meat and, on this particular occasion, a source of collective fete. The complete name for the festival is "Dog meat and lychee festival", and lychee is a fruit that allegedly has "hot" attributes as well. People of Yulin are obviously proud of their defiance against the sweltering weather.
There are many places across China where consumption of dog meat is taken for granted for the flavor or for supposed health benefits. Most do not have a designated occasion and it is usually in winter cold when the bacchanalian activities take place. Only in the southern city of Yulin, it seems, is the custom enshrined with a certain official sanctity.
Photos and videos of rows and rows of roasted "whole" dogs surfaced online and received two types of responses: licking of lips or the breaking of hearts. Many see no difference between treating dogs in the same category as hogs, cattle and chicken. And it doesn't prevent some of them from keeping pets. "It's something we've been doing for thousands of years," some pointed out, "and why should we change it because foreigners don't like it?"
It is not Westerners but Chinese pet lovers who have been crying foul and organizing boycotts against what they perceive as organized killing of innocent animals. Granted, many of them hail from big cities along the coast where dog eating is not something to be flaunted.
The past decade has seen an awakening of animal rights movements facilitated by the Internet. Truckloads of stray dogs presumably on their way to termination have been sighted and stopped and eventually adopted by those who could not see a cruel fate befalling little animals.
We recommend: