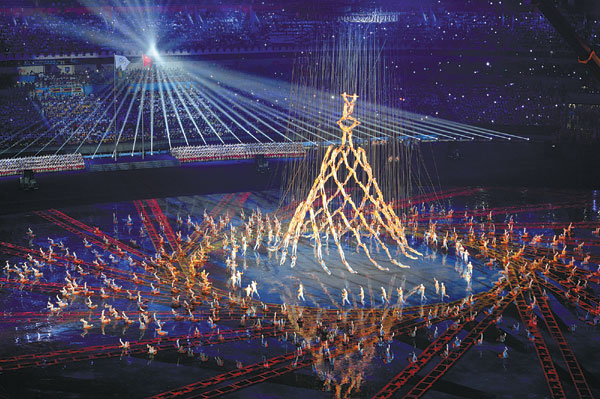 Students from the Shaolin Tagou Martial Arts School impress audiences at the opening ceremony of the Nanjing Youth Olympic Games on Aug 16. Song Zhenping / Xinhua
Students of major martial arts school endure tough training for high-wire act at Youth Olympics show, report Sun Xiaochen in Nanjing and An Baijie in Dengfeng, Henan.
He was one of the performers during the opening ceremony of the Nanjing Youth Olympic Games on Aug 16, but Yuan Jia did not know how stunning their wire stunts were until he saw the show himself on TV the next day.
"I knew we did it because we heard the cheers from the crowd (while being hoisted up). But when I saw the entire show on TV, I was like 'Wow! How did we manage to do it?'
"All the pain and sweat paid off."
Yuan, 17, is a student of the Shaolin Tagou Martial Arts School near the famed Shaolin Temple.
Despite the heavy rain on Aug 16, Tagou's high-wire act featuring 120 highly trained martial arts students in various stunts and formations drew thunderous applause from the 60,000-strong crowd in the Nanjing Olympic Sports Center Stadium.
Many fans started looking forward to the students' next performance, this time at the closing ceremony of the Youth Olympic Games on Thursday.
But Tagou's heart-stopping performance in a perilous downpour also generated controversy.
When reporters later asked about the risks involved in the acts, opening ceremony director Chen Weiya said the show would go on "even if blades rained from the sky".
Chen's remarks drew intense criticism but the student performers supported their director.
"If the show had been canceled because of the heavy rain even though we had practiced and gone through the rehearsals, it would have been the ultimate disrespect for our hard work," Yuan said.
"We've come so far in preparing for the show and we won't let anything stand between us and its perfect completion."