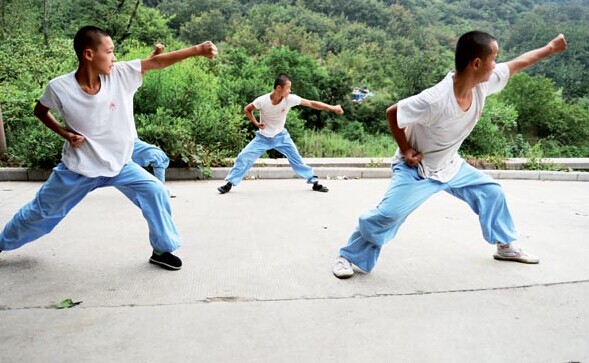 Young people from across China come to study kung fu at Shaolin Temple during the summer holiday. [Photo/China Daily]

Corporates use martial arts skills to gain competitive business edge
Back when he was a poor migrant worker sleeping in railway stations and under bridges, Lin Min had one unlikely skill he relied upon to survive and build a business empire.
As a young man, Lin had studied Shaolin-style wushu, or martial arts.
The former kung fu kid-turned boardroom bigwig single-handedly created a business from scratch that now has annual turnover of 500 million yuan ($81 million). He is among a group of financially successful Chinese who say their martial arts skills helped them fight their way to the top professionally.
More than just fodder for Hong Kong and Hollywood movies with millions of fans globally, martial arts in China is making millionaires.
Li Yang, founder of the Crazy English education brand, which uses a shouting technique to help Chinese students learn, is the latest in a string of high-profile businesspeople and celebrities to become disciples of Shi Yongxin, the abbot of Shaolin Temple.
Cryptically, Li is reported to have said the move was pivotal to the future of his business, which has already netted him a big fortune.
Western professionals, who are looking for an extra edge, also are starting to jump on the corporate kung fu bandwagon. Executives from US tech giants Google and Apple were among those who received abbot Shi's wushu wisdom this year. Other foreigners from a range of backgrounds are making the pilgrimage to study under martial arts masters across China.
Danish corporate social responsibility consultant Pernille Son Paulsen, 32, says the skills she's learning at the Beijing Scientific Ving Tsun School are transferable. "Martial arts help you develop a kind of assertiveness that also helps you in your professional life," she says.
Other foreigners, such as Clive Parkinson from the United Kingdom, have turned kung fu into their business.
The 59-year-old former kung fu world champion, who studied martial arts in the south of China for two years, began his first training school in the United Kingdom in Birmingham 30 years ago. He now has several clubs in various British cities and has trained more than 4,000 students.
"I do make a profit from my classes," he says. "I do both one-to-one teaching and group teaching.
"Chinese kung fu makes me a better person. You gain better confidence in yourself."
Lin, the former migrant worker who is now chairman of the Jiangxi Dehe Group, was born in a small village of Quanzhou in Fujian province. The self-described naughty boy performed poorly in school.
In 1990, when he was 16, the avid Bruce Lee fan began learning kung fu after enrolling at a martial-arts-focused school belonging to the Zhengzhou Shaolin Tagou Education Group, situated in a mountainous area near Songshan mountain in the western part of Henan province.
The two years he spent there were hard.
"At that time, the conditions and facilities were very harsh," Lin says. "We got up at 5 am and practiced at least eight hours a day."
Looking back, though, he describes this experience as "precious and key" to his stellar career.
Keen to make his mark, Lin sought opportunities in Jiangxi province in 1993. With no savings or business connections, he worked on construction sites and as a truck driver on the graveyard shift.
Now, 20 years later, his company's revenue is about 500 million yuan a year.
"My classmates and I go back and visit Tagou frequently," Lin says. "The experience there had a very big impact on us. Without the hard training we received, I may not have been able to be persistent in the harsh working environment I experienced when I was starting out. Learning kung fu cultivated our hardworking spirit, made us fearless and able to bravely face difficulties, which is very important in business."
Lin likened the management style at his former kung fu school to that of the military. This determined and disciplined approach to running an organization, which he says he has adopted with great success professionally, is something he values more than books.
Liu Haiqin, headmaster of the Tagou Education Group, which is the biggest chain of kung fu schools in China, says the benefits of martial arts go beyond the mere physical.
"Many of our students become successful businesspeople later, and even now, they come back frequently and practice just like ordinary students several months a year," he says.
"Learning kung fu means you have to practice in the hottest summer and the coldest winter, which makes people more energetic and confident, and is very helpful for businesspeople who face a lot of pressure and changeable situations."
Tagou, founded in 1978 with just a handful of people and a few rudimentary buildings, now has more than 32,000 students nationwide.
It is one of China's most famous kung fu schools, offering martial arts as a core syllabus subject, along with a standard primary and middle school education. More than 380 world kung fu champions and more than 700 national champions have been cultivated by the institution. Every year, hundreds of foreign students also fly in from all over the world to learn the Tagou brand of kung fu, which was developed by a family with strong links to the Shaolin Temple.
In addition to martial prowess and personal discipline, kung fu is also about self-improvement and a highly developed sense of social consciousness that closely aligns with what's expected of modern businesspeople and corporations.
So says Chen Jian, 39, another Tagou graduate-turned professional success story.
Chen, who owns a garment company in Yueqing, Zhejiang province, says kung fu's "chivalrous spirit" makes an impression in the business world and helps with professional networking.
Chen, having studied at Tagou for a year, continued learning kung fu and went on to win titles at several national championship events.
Lin also agrees that kung fu teaches the importance of giving back to society.
He says his company, Dehe, builds schools in poor regions, pays for poor students to study at college and donates to support national disaster relief.
We Recommend: