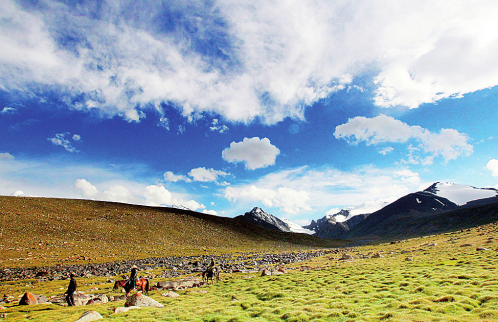 CHINA DAILY
UNESCO has added China's Xinjiang Tianshan mountain range to the World Heritage list.
Few people realize that China has the world's second-highest number of United Nations Organization for Education, Science and Culture-listed World Heritage sites. Only Italy, with 49 to China's 45, has more monuments and historical buildings on the World Heritage List, which features 981 in total.
Despite great achievements in preserving its cultural relics, problems still exist in China.
According to statistics from the latest national archaeological survey, more than 40,000 immovable cultural relics have vanished in the past 30 years, with half of them destroyed by construction work.
Earlier last year, two centuries-old temples in Beijing-Songzhu Temple and Zhizhu Temple-were transformed into two upmarket dining clubs.
Recently, Liu Xiang Mansion, one of the cultural relics under protection in Chongqing, the metropolis in the nation's southwest, was quietly turned into a luxury restaurant. It now boasts a notice board that proclaims, "Exclusive Club. Enter upon invitation."
While such moves have again raised concerns about the protection of cultural relics, China continues to strengthen its position at the top of the world's cultural heritage "league table".
In June, UNESCO's World Heritage Committee added China's Xinjiang Tianshan natural site, one of the world's largest mountain ranges, and the Honghe Hani Rice Terraces to the World Heritage list.
Of China's 45 sites, 31 are cultural heritage sites, 10 are natural heritage sites and four are mixed sites.
The Honghe Hani Rice Terraces are the subject of a major new photographic exhibition in Brussels featuring 15 of China's UNESCO world heritage sites.
The exhibition, which runs until Jan 10 at the Brussels Press Club in the heart of the European Union quarter, received the support of Liao Liqiang, China's ambassador to Belgium.
The exhibition, which opened on Dec 11, includes award-winning photographs of some of the best-known sites, such as the 5,000 kilometer Great Wall, which in 1987 became the first Chinese site to be included on UNESCO's list.
Also featured are two other tourist favorites, Beijing's Imperial Palace Museum (the Forbidden City) and the Summer Palace. Badly damaged during the war in 1860, the Summer Palace, also known for its collection of 40,000 cultural relics, has been listed since 1998 when it was placed under State protection. But jaw-dropping photos of lesser known relics such as the Mogao Caves in Dunhuang, Gansu, and Mount Taishan in Tai'an, Shandong, are also included.
The sheer beauty and majesty of all the featured sites have already drawn glowing praise from visitors, who have included senior officials from nearby EU institutions.
A diplomat at the Chinese Mission to the EU in charge of cultural affairs, welcomes such international exposure of China's cultural heritage.
"We are glad to see that at the moment, there are 45 UNESCO heritage sites in China," he says. "Recognition by UNESCO is very helpful in raising people's awareness of those places and enhancing China's soft power.
"Ever since joining the World Heritage Convention in 1985, China has been very active in protecting its heritage sites. Yet it will remain a challenge for us to have the best expertise in an extensive range of fields so we can better manage those sites for future generations."
These comments are echoed by a UNESCO source. "The world's heritage needs to be preserved and handed over to future generations. UNESCO and its member states play a crucial role in this task. "Through these photos, we discover the diversity in China that constitutes a priceless heritage for humanity."
Further recognition of the importance of China's cultural contribution to the world came a few years ago with the launch of a new Chinese edition of the UNESCO World Heritage Review magazine. It publishes feature articles on China's imperial sites and gardens, ancient Chinese cities and towns, sacred monuments and religious grottoes.
To be included on the World Heritage List, sites must be of "outstanding universal value" and meet at least one of 10 selection criteria. China, of course, is a country richly endowed with culture. The Chinese economy was transformed by Deng Xiaoping's economic reforms that began in the late 1970s and it has not looked back since.
Modern Chinese cultural exports have been a mainstay in homes across the world over the past few decades. Pop culture icons such as Bruce Lee and Jackie Chan are global figures. Chinese action movies are popular all over the world.
The discovery in Xi'an in 1974 of the Terracotta Army-sculptures depicting the armies of Qin Shi Huang (260-210 BC), the first emperor of China-highlighted the depth of Chinese culture. The sculptures were buried alongside the emperor to protect him in the afterlife.
We recommend: