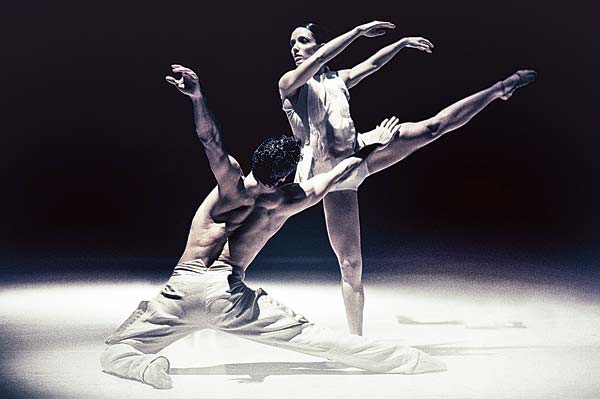 Movement: Two dancers perform Stop-Motion, a piece dedicated to the choreographer's daughter. Photos  provided to Shanghai Star 
The Nederland Dance Theater is set to bring its bold performances to Shanghai. Zhang Kun finds out why its arrival is a cause for great excitement.
Nederland Dance Theater (NDT) sold out tickets for its Shanghai debut weeks ahead of the performance to take place on Nov 14-15.
"We are witnessing the spring of modern dance theater in Shanghai," says Alice Wang, a spokeswoman with Shanghai Grand Theatre (SGT), host of the shows. Wang and critics are amazed at the rising interest in modern dance among theater goers.
NDT is arguably the foremost contemporary dance company in the world. It was founded in 1959 by Benjamin Harkarvy with the intention to break away from the more traditionally oriented Dutch National Ballet – which presented two highly successful performances of Giselle in Shanghai last week.
Many critics attribute the unprecedented international recognition and success of NDT to Jiri Kylian, who became artistic director of the company in 1976. He explored the limitations and capabilities of space, body parts, entrances and exits, contrasts and humor, before leaving to found his own dance company in 1999, according to dance critic Mu Yu. Kylian remained artistic adviser and chief choreographer with NDT till 2004.
NDT consists of two companies. The younger group of dancers – aged between 17 and 23 – gave a successful performance in Shanghai four years ago. This visit will be the debut tour of NDT I, under the guidance of its new director Paul Lightfoot.