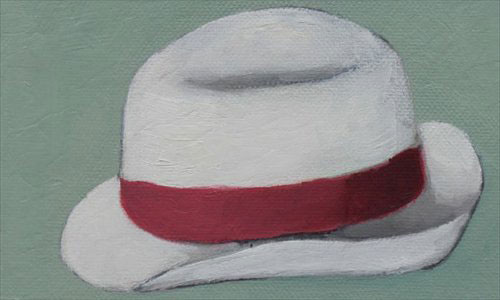 Hat by Sun Daliang Photo: Courtesy of the Linda Gallery. (Photo/Global Times)
With the beginning of Art Taipei 2014 at the Taipei World Trade Center in Taiwan on Oct 31, 2014, galleries throughout Southeast Asia rushed to the island to connect with local collectors.
Founded in 1990 and headquartered in Jakarta, the Linda Gallery, which also has branches in Singapore and Beijing, is one of these galleries.
The gallery is a well-known talent scout for emerging artists. In August the gallery's Beijing branch curated the Why Art exhibition for two young artists, Wang Mao and Xu Cong, who were selected from hundreds of emerging artists for their unique understanding of art. According to gallery representatives, they plan to turn this Why Art project into an annual event. Meanwhile, for this year's four-day-long Art Taipei 2014, the gallery has brought the works of nine artists to Taiwan, to include young artists like Cai Lei and Zang Kunkun, both of whom are around the age of 30.
However, the gallery isn't just about new artists. the current exhibition in Beijing, Everyday Alchemy, is the gallery's attempt to reintroduce the little-known artist Sun Daliang, who spent more than a decade on an isolated island in Nanjing creating art in which he portrays ordinary everyday items, such as mirrors, matches and hats, in a distorted, and sometimes, erotic style using allegorical coloring and background lighting.
Recommend: