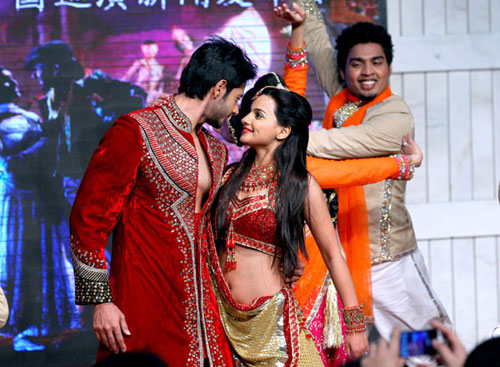 The Taj Express troupe performs at the Bird's Nest, before going on tour in China. [Photo by Zou Hong / China Daily]

Indian choreographer Shruti Merchant directed the Australian musical Merchants of Bollywood while it was on a world tour for two years in 2005, but was never convinced that it represented her home country.
In response, the 27-year-old directed her own musical, Taj Express, which premiered in Mumbai, in July, and will now tour China, including Beijing, Guangzhou and Shanghai.
At a Beijing press conference, lead actors Dhruv Bhandari and Vandana Joshi provided a glimpse of what is to come with a performance, along with supporting dancers in their glorious costumes.
Taj Express revolves around a street-smart thief on a train who falls in love with a policeman's daughter, Meera. From Varanasi to Agra and from Mumbai to Jaisalmer, the musical romps through India and provides a setting for the love story.
Merchant says the musical delves into traditional Indian theories of karma and destiny.
Choreographed by Vaibhavi Merchant, Shruti's elder sister, the production shows off various dance forms, including South Indian kooth, Shiva's tandav and Maharashatra's lavani.
The music was composed by Salim-Sulaiman, led by Pallavi Sharda and Pulkit Samrat, which combines pop, Bollywood culture and deep-rooted traditions.
"With Taj Express I wanted to take audiences through a kaleidoscopic India of ever-changing landscapes by bringing together its rich and diverse heritage," says the choreographer Vaibhavi.
Shruti, who produces the show, says she intends to put on 5,000 performances, which will require 2,000 costumes, 1,500 accessories and 42 artists.
Chinese organizers of the show say that while Bollywood is not new to China, this is the first commercial show by an Indian troupe to tour the country.
Ahead of the troupe's national tour, performers were introduced on stage at the Bird's Nest (National Stadium) on Dec 31, as part of CCTV's New Year schedule of programs.
"China and India share many similarities, such as ancient cultures and long histories," Shruti says. "I hope Chinese audiences can enjoy the variety of India's culture through this musical."
chennan@chinadaily.com.cn