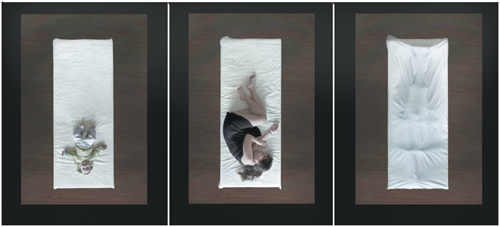 WANG PING/CHINA DAILY
Dead to Dead. Wang Ping says life is a process that inevitably results in death. People may lose themselves in life's pursuits. But everything they've chased vanishes when they die.
Digital cameras have democratized photography to the point anyone can be a photographer-and virtually everyone is. This is good news for lay shutterbugs but raises the bar for professionals. The 2014 graduation exhibition by the Beijing Film Academy's School of Photography offers a picture of where the professional bar is set. The school is considered the cradle for emerging Chinese photographic artists, including directors Zhang Yimou and Gu Changwei. The exhibition collects up-and-comers' works and connects the photographers with markets through on-site sales. It concluded with a sales volume of 30,000 yuan ($4,803).
We recommend: