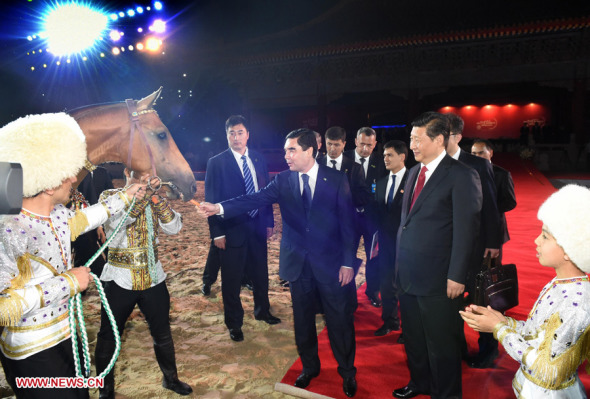 Chinese President Xi Jinping (2nd R, front) receives an Akhal-Teke horse presented by his Turkmenistan counterpart Gurbanguly Berdymukhamedov (3rd R, front) during the opening ceremony of the International Akhal-Teke Horses Association Special Conference and China Horse Culture Festival in Beijing, May 12, 2014. (Xinhua/Liu Jiansheng)

Chinese President Xi Jinping and his Turkmen counterpart Gurbanguly Berdymukhamedov attended a World Association of Ferghana Horse special conference and the Chinese horse culture festival in Beijing on Monday.
Hailing the Ferghana horse as a world renowned type and pride of Turkmenistan, Xi said the Chinese people loved the horse.
The Ferghana horse first came to China more than 2,000 years ago and has been given as a state gift to China twice by Turkmenistan since the two countries established ties in 1992.
Xi said the horse is a symbol of enduring hardship. 2014 is the year of the horse in China's lunar calendar. The Chinese people are striving to realize their Chinese dream of great rejuvenation of the nation.
Berdymukhamedov said the Ferghana horse has a unique place in Turkmenistan history and hopes the conference can further boost understanding among the two peoples.
The World Association of Ferghana Horse was established in Turkmenistan in 2011 with Berdymukhamedov as chairman. The association is holding a special conference in China from Monday to Wednesday.
We recommend: