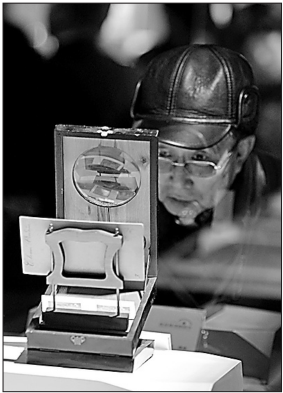 ZHU XINGXIN/CHINA DAILY
A visitor enjoys an exhibit at the section on 3-D printing.
China Photography Exhibition Center, the first photography-themed exhibition hall in China, was opened in Beijing in late December. Experts from the China Photography Association spent the past year sifting through vast archives and collections in an attempt to curate the most comprehensive and powerful exhibition of introducing China's photography from 1840 to the present.
The results are three exhibitions, which have been launched at the center at the same time-Spanning 100 Years-China Photography Art and Technology, China Camera and China Photography Documents.
Walking into China Photography Exhibition Center, which is located in the downtown capital and takes up more than 2,000 square meters, visitors see more than 200 classic photos taken by both Chinese and Western photographers that show the changes of Chinese society and the development of the country's photography technology.
The first photo people see is a self-portrait of Luo Yili. Louis Jacques Mande Daguerre, the French artist and photographer, grabbed the attention of the world in 1839 with a new invention: the daguerreotype, which was considered to herald the birth of photographs. These magically detailed, one-of-a-kind images on silver-plated sheets of copper were quickly brought to China.
Luo (1802-1852), who came from Xinhui county of Guangdong province, was one of the earliest Chinese photographers then. Luo's self-portrait kicked off photography's development in China.
Other highlights in the exhibition include a black-and-white image of a stone bridge of the Summer Palace, which was taken in 1900 by US photographer James Ricalton, portraits of late chairman Mao Zedong by Hou Bo, one of earliest official photographers for Mao, and the iconic places of Beijing from the 1920s to the present, such as the Forbidden City and Qianmen Rostrum.
In the China Camera exhibition, curated by renowned camera collector Shen Ming, nearly 100 vintage cameras display the development of China's camera manufacturing industry, which dates back to its heyday in the mid-1950s.
Many vintage cameras are exhibited for the first time to the public, including the first wooden camera made in China, the first mechanical camera made in China and the camera used by Mao Zedong.
The first manuscript about China's photography theory is displayed in the section of Historical Documents of Chinese Photography. The exhibits also feature a section on 3-D printing.
According to Wang Yao, chairman of the China Photography Association, the China Photography Exhibition Center will also cooperate with other provinces in China and other countries to hold joint photo exhibitions and open up more photography-themed halls.
IF YOU GO
China Photography Exhibition Center: B1 Beijing Design City Building, 29 Beisanhuan Zhonglu (Middle Road), northeast of Madianqiao, Xicheng district, Beijing.
9 am-5 pm, until Jan 20.
010-6525-5014.