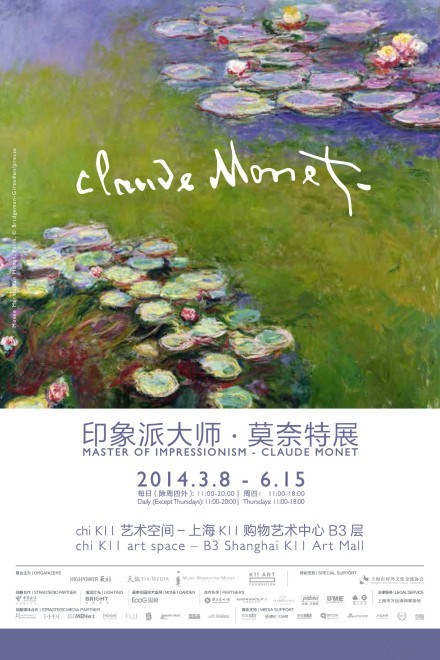 A poster of the exhibition 'Master of Impressionism — Claude Monet' [Photo/Shanghai Daily]
More than 60,000 people have reserved tickets for the 'Master of Impressionism — Claude Monet,' exhibition, which starts on Mar. 8, 2014 at the K11 Shopping Mall on Huaihai Road.
The event will be the first time the French artist's work has been shown on the Chinese mainland, and at least 7,000 people are expected to show up for the opening weekend, the organizers said.
"We're really surprised by the level of interest," said Liu Yuxian, one of the organizers.
"The exhibition is on for several months, so we're just hoping that not everyone comes at once."
The show will feature 40 original works by Monet, including his famous "Water Lilies," and 15 paintings by other Impressionist masters such as Renoir.
The exhibition, which is being jointly organized by Tix Media and the K11 Art Foundation, is one of a series of events planned to mark the 50th anniversary of diplomatic relations between China and France.
All of the artworks in the K11 show are on loan from the Paris Marmottan Monet Museum.
The event runs from Saturday to June 15 and admission is 100 yuan (US$16.28) per person.
For more information or to make a reservation, people can call the event hotline on 4000-406-506 or visit www.gewara.com, Liu said.
we recommend: