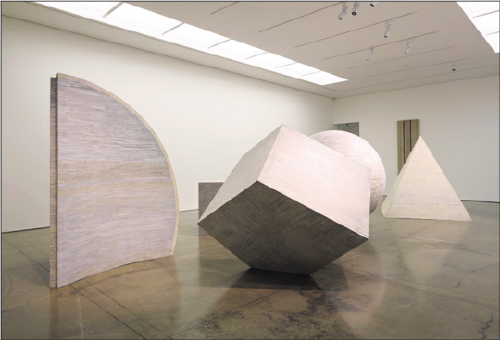 CHINA DAILY
Architectural forms highlight Liu Wei's solo show in London, reflecting China's rapidly changing sociopolitical and urban landscapes.
In the winter of 2008, visitors entering the Saatchi Gallery in London for the exhibition The Revolution Continues: New Art from China were immediately met with the installation Love It! Bite it! The incredibly detailed work by Beijing-born artist Liu Wei, was a precarious-looking mini metropolis of the West's most iconic buildings-the Guggenheim, the Colosseum, the US Capitol-and it was made entirely out of dog chews. These were, after all, the "tastiest bits" of Western culture.
Fast forward to 2014, and from now until March 15, the White Cube gallery is hosting Liu's first solo show in London. It's the second appearance for the artist's work there-the first was part of an Inside the White Cube exhibition in 2012. The new show, Density, is a collection of new, never-seen-before pieces.
Devotees of Liu will find that Density revisits familiar themes, particularly China's rapidly changing sociopolitical and urban landscapes. Architectural forms feature throughout, evoking the skylines and digital data maps of the artist's Purple Air and Truth Dimension series.
Also recognizable is Liu's concern with reality and the chaotic here-and-now, and these are depicted through a collection of structured, iron and steel pieces that are layered together-another Liu trait-one example of which evokes the temporary construction of an advertising billboard.
The standout installation, however, is Density 1-6, an enormous collection of grand-scale geometric shapes, constructed from books, iron and wood. It references the forms that Chinese art students are given to draw at the start of their training and-just like Liu did with Merely a Mistake and his 2012 White Cube show-it continues his use of "real" materials, previous examples of which have included discarded wooden doors, old furniture and washing machines.
Density, as the title suggests, speaks as much to urban growth as to a metaphorical state of pressure and impenetrability, and in that, how art poses questions and new ways of thinking. Liu, however, is not interested in a back story or providing an explanation for the work-this is why, in fact, most of his pieces are simply titled Density.
"I didn't name them because it would have brought out different explanations," Liu says. "I did think of names, but each one came with a story or gave meaning to the work, and that's not what I wanted..
Liu, dressed in a white shirt and dark V-neck sweater, is wearing a pair of glasses. His head is cleanly shaven, and though Liu is just over 40, he could be any number of years above or below that.
"Art is incredibly simple," he says. "What I want to do is squeeze out that momentary feeling, that feeling you get in the instant you see the work. What you see, what you feel, and that's it."
It's all part of Liu's dialogue with reality: confronting it and revealing the perpetual present and the just past. "I'm not trying to get to a finality-an end result of telling you what the work is. It's a starting point. A place that we can begin to ask questions."
As one of China's rising art stars, Liu's work is increasingly collectable. Since the 2008 Saatchi show, Liu's art has been on display at the Pompidou Centre and Art Basel Unlimited, as well as various solo exhibitions in Beijing, Paris and Seoul.
Last September, at Christie's Shanghai sale-the first mainland sale by a foreign auction house-the aforementioned Purple Air sold for $396,157, four times its auction estimate.
In February 2013, Liu had his first solo show in New York, at the Lehmann Maupin gallery. The exhibition was endorsed by the likes of Wendi Deng and Luo Zilin, a former Miss Universe China, who showered praise on the artist.
Chinese art dealer Josephine Hsieh, who owns the Azure Collection based out of Monaco and Zurich, first saw Liu's work over 10 years ago, and has been hooked since.
"He stands out because he is able to crystallize his conceptual work," she says.
"It's acute and instantly comprehensible, while his execution is precise and to the point. Compared with other Chinese artists, he's already successfully experimented with a variety of artistic expressions, and all within a decade."
Liu's latest work is perhaps best understood within the context of his existing work, which echoes the way he uses assemblage and accumulation.
"Everything I do has a very long-term view. It's not like, 'I'm here and doing this now'. I'm always considering the future-of what comes next. I am building on the process."
Laura Zhou, who heads up White Cube in Asia and who is originally from Shanghai, also agrees that Liu's work takes time.
"He is trying to establish his own system-one about visual art, philosophy and constructing frameworks," says Zhou.
"This is beyond how other artists create. If a collector is looking for the future, they have him. If a collector is looking for art that they can understand now, and which pleases them, perhaps they will find it difficult to understand Liu Wei. His work belongs to the future..
Ming Liu is a journalist for the Financial Times.
IF YOU GO
Density runs until March 15 at White Cube gallery, 25-26 Mason's Yard, London. 207-930-5373.
207-930-5373.
We recommend: