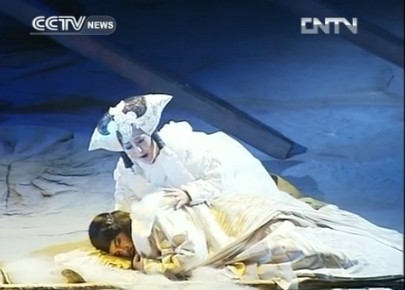 (CNTV)
The historical figure Su Wu lived some 2,000 years ago and is a household name here in China. His moving story and patriotic spirit have been observed in songs, poems, novels, films and TV series. Now, that story has been captured in an opera, produced by the Shaanxi Performing Arts Group.
This is "Su Wu, the Shepherd", an opera based on a diplomat sent by the Han dynasty court to the northern minority tribes, only to be held hostage there for nineteen years. Though tortured and exiled to a desolate grassland, legend has it that he never yielded to the enemy.
While emphasizing Su Wu's patriotism and righteousness, the opera also adds a healthy dose of romance, by weaving into the plot a love story between Su Wu and a shepherdess.
Four years in the making, the opera mixes western operatic singing with folk music elements. But the use of local tunes like Qin Qiang, as well as local musical instruments, make it unmistakenly a Shaanxi story.
"Although it features a mixture of traditional Shaanxi tunes and modern opera, the singing, acting, music and stage effects all go very well with each other. The whole piece is very integrated, while not lacking fashionable elements," said Xu Peidong, composer of "Su Wu, the Shepherd. "
Shaanxi's Performing Arts Group is also known for the Chinese opera classic "White Haired Lady". Combined with two previous operas based on two other historical figures, Zhang Qian and Sima Qian, the troupe's plan has been to create a complete "Han Dynasty Trilogy".
We recommend: