Tycoon Wang Jianlin is moving fast, both in the United States and Beijing, to build a multifunctional conglomerate featuring film and TV, theater and theme parks, Liu Wei reports.
Eighty billion yuan ($12.8 billion): That's the annual revenue Wang Jianlin, chairman of China's Wanda Group, expects from his cultural business in the near future. On Dec 1, Wang announced the establishment of the Beijing Wanda Culture Industry Group, a branch of Wanda Group. With registered capital of 5 billion yuan and total assets of 31 billion yuan, the company is China's largest cultural enterprise.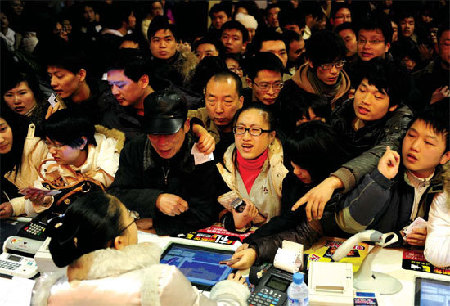 An IMAX cinema that Wanda Group operates in Changsha, Hunan province, is a local attraction. Wanda Cinema Line holds around 15 percent of the market share on the Chinese mainland. [Photo provided to China Daily]
The group has 11 companies, involved in nine fields, including Wanda Cinema Line, AMC Theatres - which it acquired in the US by September - Wanda Film & TV Media Co, Wanda Theme Park Co, Wanda Gallery and Popular Cinema, a film magazine.
"We have set a great goal for this company. In 2020 the revenue will reach 80 billion yuan, ranking within the global top 10 of cultural industry players," said Wang during a speech to the 11th China Entrepreneur Summit on Dec 7.
The ambitious plan might not be just a slogan. Roland Berger Strategy Consultants in Munich released its "Top 50 Global Culture Industry Players Study" in early December, ranking Wanda Group 37th on the list after Walt Disney Co, News Corp and Time Warner, for its cross-sectoral activity by annual revenue.
Wanda's high-profile in the cultural industry has been eye-catching. The conglomerate started as a property company and is now one of the most powerful players in the industry. Commercial property contributed 95.3 billion yuan of its total revenue of 105.1 billion yuan in 2011 and by the end of 2012, Wanda will exceed its target for annual revenue, 116 billion yuan, and will have 35 new Wanda Plazas, featuring shopping malls and cinemas, within two years, according to Wang.
But the Wanda chairman is obviously thinking about more than just land. Since 2005 the company has invested in the culture sector, beginning with the construction of cinemas in its commercial properties as evidenced by Wanda Plazas.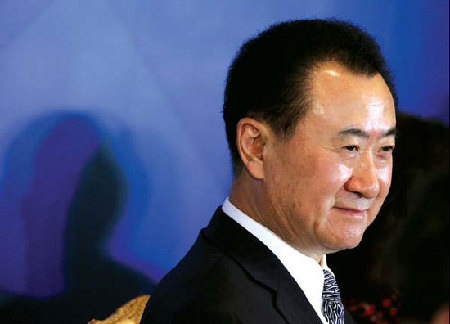 Wang Jianlin, chairman of Wanda Group. [Photo provided to China Daily]
The first steps into the cultural industry, as Wang Jianlin recalled in an interview with Forbes Magazine earlier this year, were made by force of circumstance. At first, Wanda cooperated with Time Warner to build theaters, but a regulation released in late 2005 restricted foreign ownership of shares in theaters to less than 49 percent for each venture, which led to Time Warner's withdrawal from its theater business on the Chinese mainland. Then Wanda worked with Shanghai Media Group, but subsequent personnel changes at SMG saw that cooperation end. That was when Wanda decided to operate its own theaters and other cultural facilities, such as karaoke and theme parks.
Wanda's proceeds during those seven years have proved that the cultural industry creates big value. When Wanda entered the film industry in 2005, total box office revenue in China was only around 800 million yuan, but in 2011, that figure rose to 13 billion yuan nationwide and by November this year, the number had grown to 14.3 billion yuan. Wanda Cinema Line, which has 1,000 screens in China, holds market share of 15 percent.
The cultural sector will become a "pillar" of the group, said Wang during his speech in December. The government has also identified the cultural sector as one of the pillars of Chinese industry; at a meeting in 2011, the Party's central leadership defined culture as a pillar industry and a growth business in the nation's 12th Five-Year Plan (2011-15), and expects it to account for 5 percent of national GDP by 2016.