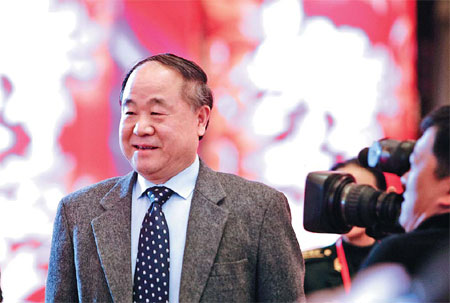 Mo Yan is in the spotlight during a recording in Beijing on Jan 13 of the China Federation of Literary and Art Circles' Spring Festival celebration. [Photo: China Daily]
Mo Yan's Nobel Prize win has prompted a surge of interest in Chinese writing.
Chinese writers have rarely enjoyed the spotlight as much as they did in 2012.
Mo Yan, who was born and lives in China, brought attention to Chinese writing when he won the Nobel Prize in literature.
The Mo Yan effect is spreading - creating opportunities for Chinese literature to reach a global audience.
Critics expect more translators will be needed to render Chinese works into various languages. Meanwhile, Chinese officials and publishing professionals are making efforts to present more interesting reading to the international market.
The year 2013 is set to witness more excitement for Chinese literature.
Post-Nobel craze
Mo Yan has become a celebrity, appearing not only in literary journals, but also on arts and entertainment pages. The Nobel effect has made him a widely loved idol. Mo is "proving the capability of Chinese writers, and encouraging people to have faith in Chinese writing", Chinese Writers' Association chairwoman Tie Ning said.
After the announcement of Mo's Nobel win in October, up to 920,000 people a day searched for information about Mo, according to search engine Baidu. Before the news, there was an average of 2,000 daily searches.
Mo's works became the year's bestsellers. According to surveys by the Open Book, a book sales monitor in China, monthly sales of his work multiplied 199 times compared with before his win. Frog, the story of the effects of China's family planning policy, is among the most popular.
The Open Book said that in 2012 Mo contributed 0.47 percent to the Chinese book market, while in 2011 he only made up 0.01 percent.
The paperback edition of Mo Yan Anthology sold 200,000 copies, and the hardcover reached 100,000. Employees from his agent, Beijing Genuine and Profound Culture Development Co, said Mo's collections are selling well because many customers give them as presents during Spring Festival.
Suddenly, Mo was everywhere. His image became part of a test for elementary school students, asking the young students to identify the writer. Textbook writers are considering including his work into the high school curriculum. They are known for their high standard in selecting the texts.
Rumors are also flying that Mo's book Big Breasts and Wide Hips is to be adapted into film, possibly directed by Zhang Yimou, and that Mo is said to be planning to attend the CCTV Spring Festival gala.
It's probably the first time in a decade that writers' names have appeared in entertainment news. The Mo effect has also reached other writers, including Feng Tang and Zhang Chengzhi, making them a feature of gossip columns.
Writers being at the center of public interest is a sharp contrast to a popular statement that literature, especially serious literature, is dying.
On the contrary, more people are interested in literature, spurred by Mo's influence.
On Jan 22, Mo was named director of the International Writing Center at his Alma Mater, Beijing Normal University, said to be the first of its kind in China.