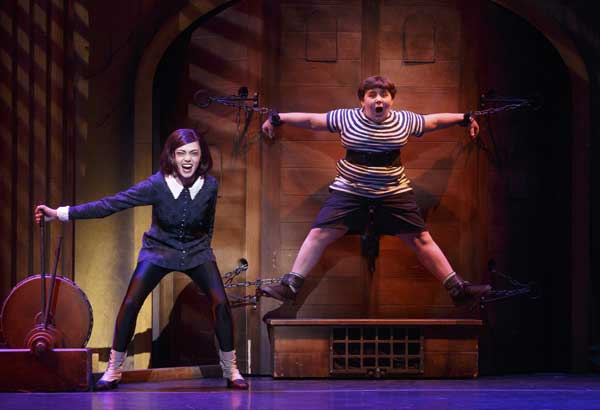 [Photo by Carol Rosegg / for China Daily]
However, choosing the cliche yet universal theme has helped the Broadway production to cross cultural borders. It has recently launched international productions in Brazil, Sweden, Australia, Argentina, Finland and Peru with cast of local performers.
Despite the warm, loving theme, the musical compensates fans who go for the spooky side of The Addams Family with its visual effect.
According to Mark Minnick of the casting staff, what sets it from any other musical is the unusual ensemble made of the Addams family's ancestors who come up from graves. Pale skin, messy hair and rotten clothes make these ghosts a bit scary.
It's also interesting to see how Andrew Lippa, the music and lyrics writer, brings the characters from paper to life. His Addams Family work won him a 2010 Tony Award nomination for the best original score.
The fantasy musical has great potential to become a box-office hit on its Asian tour, drawing big audiences for 24 shows in Singapore. But Chinese audiences are much more cautious about trying something new.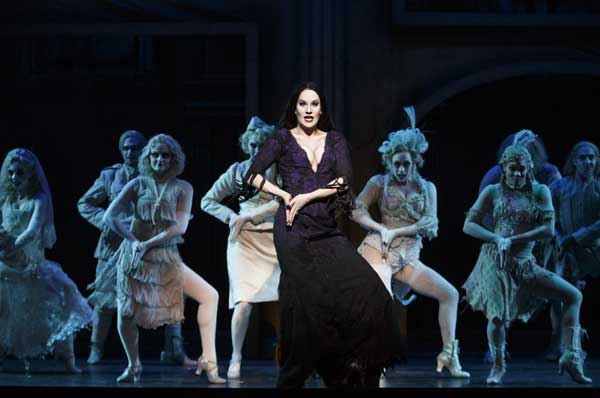 [Photo by Carol Rosegg / for China Daily]
Broadway Asia International, the production company for The Addams Family's Asian tour, approached theaters in Beijing and Shanghai but they all turned it down because of cost and box-office concerns.
Only Guangzhou Opera House on the Chinese mainland was bold enough to take the project. After shows there, the production moves on to Macao.
The cool reception shows that the musical market in China is still not mature, according to Xu Minqi, art director of the opera house.
"Chinese theaters can't feed the audience with only classics that are two or three decades old all the time. The market needs a variety of shows," Xu says.
"We were prepared to lose money before we accepted the project. The market needs cultivation. I hope The Addams Family and more good, less-known musicals and other arts can get a good start in Guangzhou and attract the country's attention."
Marc Routh, president of Broadway Asia International, says, "The musical is a new art form for China. The market is growing. If The Addams Family succeeds in China, it will prove that the Chinese audiences truly accept the concept of Broadway. Then we can expect China to produce more musicals of its own."
We recommend: