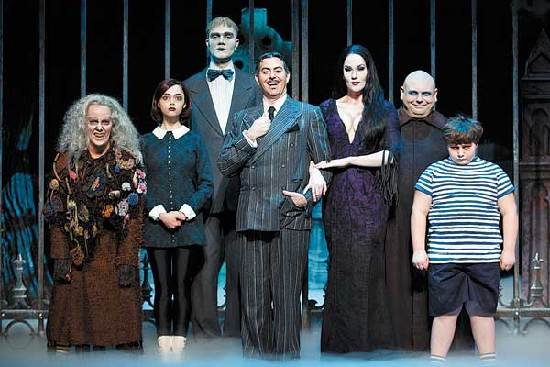 The theme is more warm than creepy, but The Addams Family tries to attract fans of the old series with its visual effects. (carol rosegg /for China Daily)
The Broadway adaptation of American cartoonist Charles Addams' black comedy The Addams Family made its debut in China with its original English version on Aug 13, testing the waters for the young musical after the success of classics, such as Cats and Mamma Mia!
The Addams family is a group of creepy characters in the cartoonist's one-panel gags serialized in the weekly magazine The New Yorker from 1938 until Addams' 1988 death.
Grandma is madly keen on making poison. Mother grows a piranha plant as her pet. Father is intoxicated by a "beautiful" painting of tombs. The daughter's hobby is studying death, while the son loves being tortured by his sister. And the uncle giggles when everyone else in the cinema is weeping over a sad movie.
Eccentric as they are, the Addamses quickly won Americans' hearts. The Addams Family has been adapted to TV series, both live and animated, since the 1960s.
After a tryout in Chicago in 2009, the musical version opened on Broadway in April 2010 and saw $15 million advance ticket sales the following weekend, a huge figure for a new Broadway show. It had more than 750 runs with a weekly revenue of $1 million until it closed at the end of 2011.
Then it went on tour, visiting Asia for the first time this summer.
Marshall Brickman and Rick Elice, the musical's playwrights, say the charm of the Addams family lies in their straightforwardness and ease with being different from others.
"They have no subtext. Whatever they think, they say. Whatever they want to do, they act out. They are enviable. What they do is what we want to do, but we can't because of all kinds of restrictions," Brickman says.
People can also identify with the cartoon's family perspective, which is the focus of the stage adaptation.
The New Yorker has criticized the musical's story for staying safely on the outside of Addams' comic world and has picked "the weakest one of all the dark cards in Addams' hand", which is "love".
We recommend: