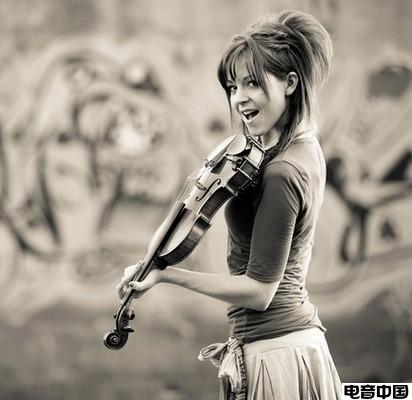 American violinist Lindsey Stirling will showcase her signature violin-electronic-dubstep style in her first Shanghai performance next month.
The concert will be presented at the Mixing Room & Muse, the "intimate" 800-seat theater at the Mercedes-Benz Arena on August 21.
Stirling, famous as a finalist on "America's Got Talent," is a violinist, dancer, performance artist and composer who blend classical violin, animated modern dance and video game themes such as "The Legend of Zelda."
After the talent show in 2010, she was called the "Hip Hop Violinist" but she doesn't want to be categorized.
"I did play a few pop songs on "America's Got Talent,' and that's what they called me but I don't consider myself in any particular genre. I do everything from rock and roll to classical to electronic," the 27-year-old California-born musician says.
Her debut album "Lindsey Stirling" was released last year, featuring her violin-electronic-dubstep style. She describes her personality and her music as "free, vibrant and optimistic."
"My musical style is a reflection of my personality," Stirling says, "and through it I hope to share my belief that no one should be afraid to be themselves. When you truly love what you do, it shines through your work and makes it magnetic."
Stirling's love of music for music began with free community concerts and the music of Tchaikovsky, Beethoven and Mozart played every day on an old record player. She begged her parents for violin lessons at age five.
Having chosen violin over dance, Stirling decided in her late teens to teach herself dance by watching online videos. She studied footwork, practiced moves and techniques, and even taught herself to Moonwalk.
After years of playing only classical music, Stirling felt burned out and decided to infuse her classical music with modern rhythms and beats like dubstep and hip-hop.
"I had lost my passion and I knew I could find it again. So I started writing the kind of music that I love to listen too," she says.
Stirling wrote violin parts for the Black-Eyed Peas, incorporating dance in her music, and recorded her first video for YouTube. The video went viral, garnering a huge "Lindsey Stirling is a promising young talent," says Michael Craig Enoch, general manager of the Mercedes-Benz Arena. "Just like all great performers, Lindsey is able to break down the barriers surrounding traditional music while incorporating her own style and personality."
She is working on a new album to be released in April.
"I'd like to do songs that have elements of different cultures around the world," says Stirling, "I would love to have a Bollywood track, a tribal sounding song, a Celtic piece and maybe even an Asian song."
Date: August 21, 9pm
Address: 1200 Expo Ave, Pudong
Tickets: 380 yuan
Tel: 5150-9199, 962-388
We recommend: