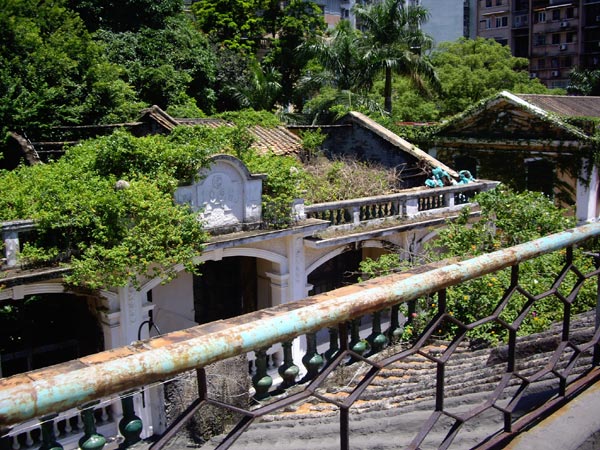 G32 Gallery, with its restored roof overlooking the low-rise neighborhood, is used as the studio for two artists who craft indigenous accessories. Photos by Rebecca Lo / for China Daily
Rebecca Lo strolls round the historic district of St. Lazarus in Macao and finds that it has become an incubator for artists and designers.
I find it fitting that the patron saint of lepers and outcasts is also where Macao's most fascinating art district can be found. And any artist who has ever felt marginalized will agree.

The elderly Lazarus of ancient times was plagued with leprosy and shunned by his people until Jesus Christ washed him clean of the disease. The oldest church in Macao, built in 1557, is so named in his honor and a neighborhood grew up around it.
Centuries ago, the St. Lazarus district contained a lepers' hospital and a home for destitute and mostly elderly women - the latter is known colloquially as Old Ladies Home.
After the city's development shifted to Avenida da Almeida Ribeiro - literally new street in Chinese - poor old St. Lazarus started falling into a dilapidated state.
Architect Carlos Marreiros was one of the first to see its potential as an artist hub and, after revitalizing it, made Old Ladies Home his studio more than a decade ago.
The area has slowly but steadily been getting face lifts through the Cultural Affairs Bureau, which has its head office in the area, and the efforts of people like Vong Sek-kuan. He is the director of the St. Lazarus Church District's Creative Industries Promotions Association.
"We founded the association in 2003 to promote indigenous Macao culture," says Vong during a tour of G32 Gallery. "There are a lot of things that used to happen in this area that you don't see anymore. Before spas, women used to get their eyebrows plucked and unwanted body hair removed on the street by threading experts.
"St. Lazarus was our city's first Catholic church; it effectively introduced Christianity to China. The area has hundreds of years of culture and it still has many stories to tell."
Vong explains that typically local citizens have a day job and work on artistic pursuits during their spare time.
"One of our best cartoonists used to drive a cab for a living," he says. "He only showed his work to family and friends; he didn't feel it was worthy of being exhibited to the public. One of the things we hope to achieve with the district is to give both amateur and professional artists a platform to showcase their work without judgment."
We recommend: