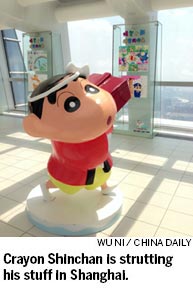 Crayon Shinchan, one of Japan's most popular anime characters, has arrived at Shanghai's tallest skyscraper.
The exhibition Crayon Shinchan's Sky Trip is ongoing at the 94th and 97th floor of the 492-meter-high Shanghai World Financial Center located in the Lujiazui area.
In the observatory at SWFC's 97th floor, dolls of Shinchan and his family members and friends have attracted many visitors who are there for photo opportunities.
For fans, the most precious display is perhaps the more than 30 manuscripts by the author Yoshito Usui, who created Crayon Shinchan in 1992. From these manuscripts, one can see how the author drew the cartoon step by step, from simple pencil sketches to colorful crayon works.
On the 94th floor of the observatory, four classic scenes of the animation are displayed. Visitors can pose for photos such as taking a school bus with Shinchan, or sharing a sauna room with Shinchan's family.
There are also 21 posters of Crayon Shinchan films on the same floor. These films have never been screened in China, thus it is a chance not to be missed by fans of the cartoon character.
Hassan, a 12-year-old boy from Ili of Xinjiang Uygur autonomous region, is excited by the show. "I began watching the animation when I was 10. Shinchan is my favorite animation character because he is very funny," says the boy, who is traveling in Shanghai with his father.
Though many people are fascinated with the story about the mischievous 5-year-old Shinchan, the manga in its current form ended in September 2009 because of the death of Usui.
This is the first time the Crayon Shinchan-themed works are being exhibited in the Chinese mainland, as part of several events to celebrate the fifth anniversary of SWFC, says Zhu Milan, a spokeswoman of the observatory.
The other activities to celebrate the anniversary include a tai chi performance on the 100th floor Observatory from 7 to 8 am on Aug 11, when a tai chi coach will be invited to perform the Chinese traditional sport, says Zhu.
At 474 meters above ground, the 100th floor observation deck provides a spectacular view of downtown Shanghai and the Huangpu River. Walking on the three transparent glass-walled walkways, visitors will feel as if Shanghai lies at their feet.