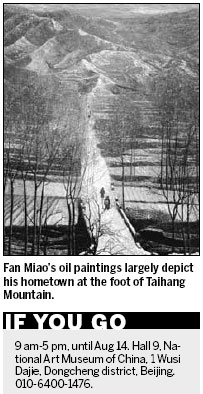 Oil painting may have been introduced to China from the West, but Chinese oil painter Fan Miao has found his own way to give the medium an Eastern flavor.
His exhibition, Landscapes of Mind, at the National Art Museum of China displays 26 of Fan's oil paintings. All his works focus on the landscapes of Taihang Mountain in Hebei province, using painting techniques from neo-Impressionism.
At first glance, Fan's works lie somewhere between oil painting and Chinese traditional painting. The composition of his works reminds people of traditional Chinese landscape paintings, but they are all created with oil on canvas.
"I want to localize oil paintings in China, so I put the spirit of Chinese landscape painting into my oil painting," says the 50-year-old artist.
Yang Feiyun, dean of Chinese Academy of Oil Painting, says, "Fan's oil paintings have inherited the spirit of China's traditional culture. The magnificence of the mountains in his pictures echoes the mindset of Chinese painters' love for nature."
Many of Fan's works feature snow-covered Taihang Mountain, with trees, villages and the Great Wall. The images are drawn from the artist's memory of his hometown of Baoding, a city at the foot of the mountain.
Scenes typical of Baoding are often featured in Fan's work - red-brick houses with square yards, poplars without leaves and mud roads stretching into the far mountains.
In his pursuit to be an artist, Fan has never left school. He is now an art professor at a university in Hebei province. He studied oil painting both for his bachelor's and master's degrees. During his study tour abroad, Fan visited France, Italy and Britain, countries where oil painting originated and continues to be popular.
After seeing the work of the masters of oil painting, Fan decided to incorporate elements of Chinese paintings into his art to distinguish his paintings from those in the West.
"My husband walks a road different from other artists. He changed his art style years ago. It's a risky road, but he never gives up," says Fan's wife Wang Lijia, a Chinese ink painting artist.
Fan says Chinese traditional landscape paintings try to show harmony between man and nature while oil paintings attach more importance to humans. That's why his pictures always have no people in them, only landscapes, to show the feeling of the painter via his brushes.
 We recommend: