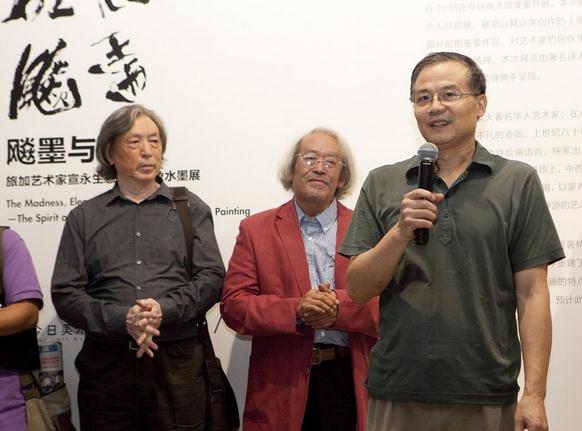 Xuan Yongsheng (right) delivers a speech at the opening ceremony of his solo exhibition on Saturday, September 20, 2014. (Photo provided by Today Art Museum)
Chinese-Canadian artist Xuan Yongsheng's solo exhibition opened Saturday at the Today Art Museum in Beijing.
The exhibition, "The Madness, Elegance, and Thrill of Ink – The Spirit and Style of Xuan Yongsheng's Ink Painting," displays Xuan's recent series of "Not Mountain Not Water" as well as some early works to reflect his entire artistic career.
The mild-mannered artist blends Western aesthetic ideas including expressionism and abstractionism with the traditional Chinese ink painting, and explores his own style in the modern ink art.
We recommend: