Xi'an, located in central-northwest China, records the great changes of the country just like a living history book. Called Chang'an (meaning the Eternal City) in ancient times, Xi'an is one of the birthplaces of ancient Chinese civilization in the Yellow River Basin area. As the eastern terminal of the Silk Road and the site of the famous Terracotta Warriors of the Qin Dynasty, Xi'an has won a grand reputation all over the world. More than 3,000 years of history including over 1,100 years as the capital city of ancient dynasties have endowed Xi'an with an amazing historical heritage. Tourists marvel at the numerous historical sites and cultural relics in and around the city.
1.Terra Cotta Warriors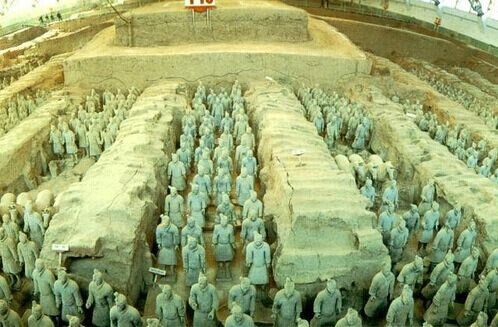 Terra Cotta Warriors
The Terracotta Army is a collection of terracotta sculptures depicting the armies of China's first emperor, Qin Shi Huang. It became the Eighth Wonder of the World and a UNESCO world cultural heritage site in 1987. The Terracotta Army is one of many treasures and objects buried with the emperor to accompany him in his afterlife.
It was discovered in 1974 by a group of farmers who were digging a well. The Terracotta Army is one of the most significant archeological excavations of the 20th century. It is a sight not to be missed by any visitor to China.
Admission: 150 yuan (peak seasons); 120 yuan (off seasons), (includes Qin Shi Huang Mausoleum, Museum of Qin Terracotta Army, Museum of Terracotta Acrobatics, Museum of Terracotta Civil Officials and Museum of Stone Armor)
Opening hours: 8:30 a.m. to 5:30 p.m. (March 16 to Nov. 14); 8:30 a.m. to 5 p.m. (Nov. 14 to March 15)
Travel tips: Professional tour guide service is recommended.
2.  Shaanxi History Museum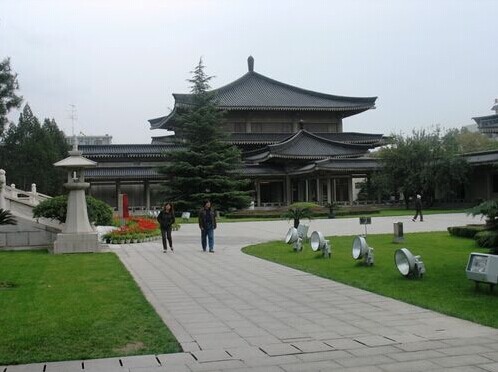 Covering an area of 65,000 square meters, the Shaanxi History Museum is located on Xiaozhai East Road, to the northwest of the Giant Wild Goose Pagoda. The museum houses over 370,000 pieces of historical relics including pottery, bronze works, coins, porcelains, murals, paintings, gold and silver objects, which span a period of more than 1,000,000 years, ranging from the Stone Age to the modern years around 1840. The appearance of the museum recreates the Tang Dynasty (618-907) style and symbolizes the great extent of Shaanxi history and its remarkable culture.
Admission: free
Opening hours: 8:30 a.m. to 6:00 p.m. (March 16 to Nov. 14, last entry 4:30 p.m.); 9:00 a.m. to 5:30 p.m. (Nov. 15 to March 15, last entry 4:00 p.m.), closed on Mondays, except on national holidays.
Travel tips: One ID card for one ticket. As it is always busy inside so hiring a professional guide is highly recommended.