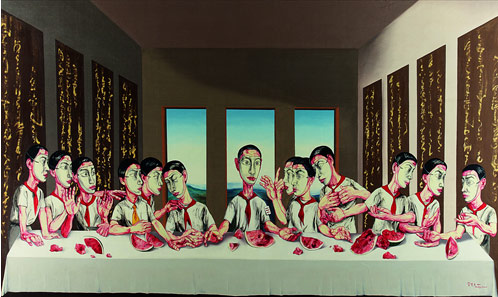 The Last Supper (2001) by Zeng Fanzhi sold for well over 100 million yuan at a recent Hong Kong art auction. (GT)
One of the biggest pieces of news shaking the art world this October is the record-breaking auction deal at Sotheby's Hong Kong 40th Anniversary Evening Sale on October 5.
The most famous piece of Zeng Fanzhi's Mask series, The Last Supper, was sold at a price of HK$180.4 million ($23.1 million), setting a new record both for a work of contemporary Asian art and for any living Chinese artist.
Created in 2001, Zeng's oil-on-canvas work is the biggest painting in his Mask series.
The huge bid caused a great many discussions in the Chinese art scene about Zeng and his high-priced piece.
In the booming market where every new high price sounds unbelievable, what does this record mean for the artist and the whole art market in Asia?
Name recognition
In this year's Hurun Best-Selling Chinese Artists rankings, released in May, Zeng's name was placed in the No.2 spot for living artists, making him the youngest in the top 30.
Just five months later, his name is back in the headlines for this sale.
Based on the total sales volume of the artist's work at public auctions in 2012, Zeng's artwork generated $73 million last year.
According to data from Art Market Monitor, Zeng's artwork has an 88.9 percent deal rate in recent years, meaning his work is successfully sold at nearly every auction it's presented in.
In fact, back in 2008, when Zeng's Mask series No.6 was sold for HK$76 million as the most expensive contemporary Chinese art at the time, the accumulated total capital generated for his pieces in the market was already No.1 in China and No.6 in the world.
Bao Yifeng is an art collector whose collections include pieces from Liu Ye, Ding Yi and a smaller piece of Zeng's Mask series as well as a print of The Last Supper.
Bao told the Global Times that one of his criteria for selecting artwork is knowing the artist personally.
In 2003, Bao worked on public relations for Zeng's exhibition at the Shanghai Art Museum and was impressed by Zeng's professionalism.
"He kept a very rigorous attitude. Both the technique and academic value in his work has foresight," said Bao, adding that Zeng sets very high standards in every aspect of his exhibitions, from creating a model to other smaller details.
We recommend: