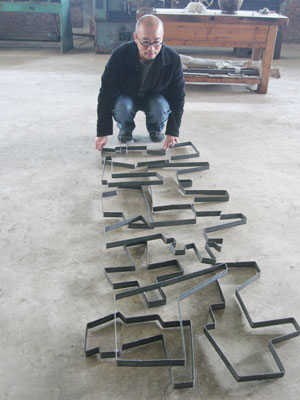 Arthur Chan sets up an installation that reflects his love for modern architecture. Provided to China Daily
Architect Arthur Chan moonlights as an installation artist when he isn't busy designing interiors. Rebecca Lo drops by his latest exhibition Cityscape at YY9 Gallery to see how he deconstructs Hong Kong.
You may be able to take a man away from practicing architecture but you can't take the architect out of a man who is already one by training. Such is the case with Arthur Chan, whose day job is architect and founder of DPWT Design.
He oversees offices in Hong Kong, Beijing and Shanghai, and has worked with blue-chip clients including IBM, Siemens and Kerry for the design of their corporate offices.
After practicing for 15 years, Chan felt that he wanted to explore a field where there are fewer restrictions to his creativity.
"Projects take a long time to realize," he says. "Due to budgets or other limitations, it is also very difficult to produce the result that I want to achieve. Fine art gives me a very different sort of satisfaction. It allows me to be hands-on and I can control exactly what I am creating. The result takes a matter of days or weeks rather than months or longer with projects."
He obtained a master of fine art degree from the Royal Melbourne Institute of Technology University, graduating in 2007. Since then, he has created a number of installations that give voice to his fascination with cities and city planning.
Chan enjoys working with contemporary materials such as plastic sheets and metal, carving out negative voids and layering the results to produce ever-changing shapes that throw shadows that take on lives of their own.
Due to his preference for monotones and neutral color schemes, installations are distilled to their minimal essence and reflect his love for modern architecture.
His work has a corporate detachment that perfectly suits lobbies and boardrooms.
In Cityscape, presented with artist Otto Li, Chan has created two site-specific pieces for the second exhibition at YY9 Gallery.
Opened in late 2012 as an extension of 2B Square Design Gallery in Happy Valley, YY9's lofty ceiling allows for larger installations, while an L-shaped mezzanine of offices is suspended above like a couple of railway cars.
Chan sheepishly admits that it is part of his training to visit the space to get a feel its scale: "My installations are both suited to their environment."