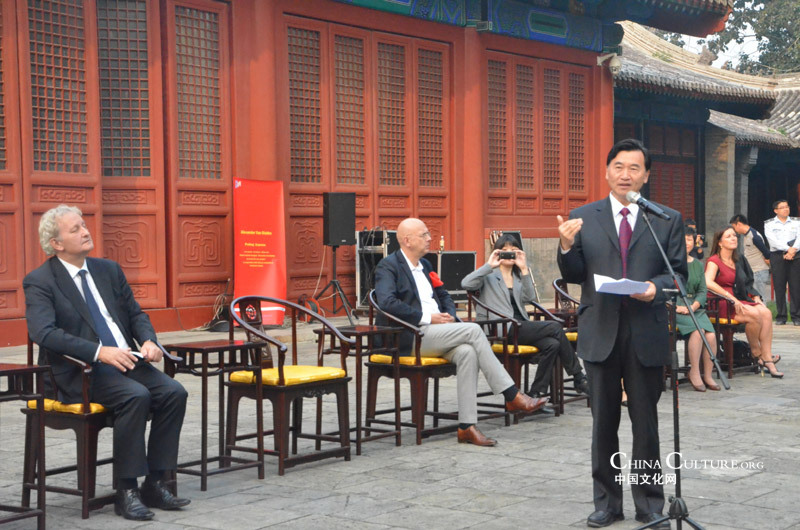 Wu Zhiyou, curator of the Beijing Temple of Confucius & Imperial College Museum, gives a speech at the opening of the Peking Express exhibition on September 28, 2013 in Beijing. [photo by Yang Qi/chinaculture.org]
Wu Zhiyou presents a gift to Eberhard van der Laan, the mayor of Amsterdam at the opening of the Peking Express exhibition on September 28, 2013 in Beijing. [photo by Yang Qi/chinaculture.org]
The Peking Express fashion exhibition is currently underway at the Imperial College Museum at Guozijian. The exhibition presents Chinese fashion design work created by students from the China Central Academy of Fine Art (CAFA), the Beijing Institute of Fashion Technology (BIFT) and produced under the guidance of renowned Dutch fashion designer Alexander van Slobbe.
According to Slobbe, Chinese red symbolizes luck and said, "the lucky dresses are really well done."
"It's a perfect combination of Chinese traditional culture with modern Dutch art and fashion," said Wu Zhiyou, curator of the Beijing Temple of Confucius & Imperial College Museum.
The student workshop and exhibition is a continuation of a Sino-Dutch exchange project initiated in 2010 for the Shanghai World Expo under the theme of the Dutch Golden Age that first travelled from Shanghai to Amsterdam and has now returned to the capital of China.
Location: Beijing Temple of Confucius & Imperial College Museum, 15 Guozijian Road, Dongcheng District, Beijing 
Time: September 26 – October 27, 2013